Tape storage and backup suits us fine, says City firm's backup chief
Tape storage wins out over disk-based backup, according to Tradition's network infrastructure manager. He tells us why he's sticking with tape backup and how keeping things simple pays dividends.
SearchStorage.co.UK regularly interviews data storage managers as part of its Storage Pro-File series. This week, bureau chief Antony Adshead speaks with Anish Taank, network infrastructure engineer at Tradition, who talks about keeping on top of backups in a rapidly changing environment, why Tradition is sticking with tape and why vendors should get to know their products better.

The financial services brokerage firm recently merged two environments after an acquisition expanded the business from 100 seats to 1,000. Tradition runs about 100 HP servers at its City of London offices with storage a mix of NetApp filers, plus Dell EqualLogic and HP LeftHand Networks SAN capacity.

Download this free guide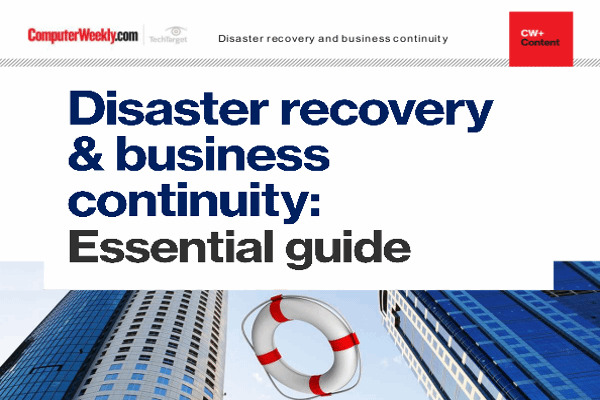 Disaster recovery and business continuity: Essential guide
Download this e-guide to create a solid DR and BC plan and protect your organisation from negative events.

By submitting your personal information, you agree that TechTarget and its partners may contact you regarding relevant content, products and special offers.

You also agree that your personal information may be transferred and processed in the United States, and that you have read and agree to the Terms of Use and the Privacy Policy.

Database data forms the overwhelming majority of Tradition's daily backups of 3 TB, which are carried out with Arkeia Version 8 to four Hewlett-Packard (HP) LTO-4 tape drives. After the company's recent merger, Arkeia was retained rather than the Symantec NetBackup product that the acquired firm had used.

If you think you or someone you know would be a good candidate for our Storage Pro-File, please submit their contact information to editor@searchstorage.co.uk.

SearchStorage.co.UK: How did you get involved in storage and backup?

Taank: Dealing with backup just fell into my lap really. When I was still junior, the DBA used to look after it. We had two very small SDLT tape drives and we changed the tape once a week. Then the DBA went on holiday and it all started from there.

SearchStorage.co.UK: What's the biggest challenge you face in your job?

Taank: In my role I oversee backup and the biggest challenge I face is to ensure we're backing up properly without errors, that people are checking the logs and that we're backing up what we should be.

We had a bad experience last year in which the logs hadn't been checked and we had lost data. So, I have regular meetings with the backup team to make sure new servers that need to be backed up are being backed up and that logs are being checked regularly.

Also, it's a challenge to keep up with the ever-increasing amounts of data. When we do get sudden increases, we have to think through whether we need more tape capacity, do we need to change the timings of the backup window, do we need new hardware?

We have no dedicated ops team to look after backup, and we operate on an ad hoc basis, but I keep an eye on things to ensure we have some foresight.

SearchStorage.co.UK: What's the biggest satisfaction you get from your job?

Taank: Really, it's the best thing when everything goes smoothly. We have a lot of servers -- there are Windows machines, Linux machines, Exchange databases -- so lots of things that could go wrong. And when something does go wrong, it can be a pain to fix things.

We had an issue last year when tapes were being ejected from both tape drives and we had to work our way through swapping out tapes, SCSI cards in the servers, the cables, everything, before we found out it was an error with the tape drive and HP replaced them under warranty.

SearchStorage.co.UK: What tips would you give to other storage and backup professionals?

Taank: Don't over-complicate things with the latest hardware. Go for what suits your business.

Make sure things are simple to use — the people that implement it will not be the people that use it, so keep it simple and easy to fix. It's a pain when you have to fix things and you don't want to miss a backup window.

For example, we use tape and have no disk-based backup because we just don't need it. We don't get many requests for restores so it's just not worth going down the disk-to-disk backup route which, in any case, would work out far more expensive than tape.

Tape is suited to our needs. We have some data that needs to be kept for two years and some that needs to be retained for six months, and to put that much on disk would need at least 120 TB of capacity, which is going to be expensive.

We don't get asked for many restores and if we do it is people needing a couple of days' worth of the database, which can be restored from snapshots that we keep for a week. We've only had a handful of restores in the past two years.

What we have works and there's no justification to spend large amounts of money on new technology and the training that would require.

SearchStorage.co.UK: What could vendors do better?

Taank: They need to know their own products and the possible faults. I got landed with dealing with the LeftHand hardware last year and had to call for support. After we implemented it, HP had taken over LeftHand and their people couldn't give me the documentation I needed. The lesson is this: It can take time to get the support you want after one vendor swallows a smaller one.

SearchStorage.co.UK: What would you do if you weren't in IT?

Taank: It took me a few years to figure it out, but I'm in the kind of place I want to be job-wise. I'm fascinated by many aspects of IT and we don't have a rigid team structure, so there is lots of scope at Tradition to do things that we want to do in many technology areas.
Read more on Data protection, backup and archiving