Andhra Pradesh's APSWAN project finalizes networking vendor
Andhra Pradesh state wide area network project (APSWAN) selects 3Com as the networking vendor to connect government offices with common service centres.
Andhra Pradesh Government's state wide area network (APSWAN) project has announced the vendor for its networking components. Under this deal, 3Com will provide enterprise switching, routing and security solutions to connect 23 district offices in Andhra Pradesh as part of the state's wide area network (SWAN) project. The APSWAN is part of Government of India's SWAN initiative to increase efficiency in government operations across the country by offering government to government and government to customer services.
APSWAN will connect various government offices with common service centres for various e-governance initiatives. It will enable Andhra Pradesh's state government to communicate and conference with all government offices using voice over IP links. Applications covering transport, healthcare, education and municipality will also operate on this e-governance network's backbone, which is scheduled to be rolled out within 12 months.

Download this free guide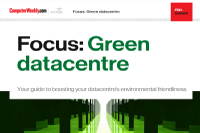 Datacentres - 5% of the world's global energy
Don't be a Trump. Datacentres currently represent 3 to 5% of the world's energy. That's the same as the entire aviation market. Your environment needs you! Do your part and click here.
Read more on Datacentre capacity planning