University eliminates mailbox quotas with Mimosa Systems' NearPoint email archiving
Liverpool John Moores University implements Mimosa NearPoint for Microsoft Exchange email archiving system to eliminate mailbox quotas, cut backup times and slow .pst file growth.
Liverpool John Moores University (LJMU) implemented Mimosa Systems' NearPoint for Microsoft Exchange Server email archiving system to remove mailbox quotas for nearly 40,000 users, eliminate the spread of Microsoft Exchange .pst files to local drives and cut backup times.

LJMU has 3,000 staff and approximately 30,000 students, with up to 37,000 active mailboxes at any one time due to student turnover. Prior to the email archiving project the university had a policy of preserving all email, which resulted in more than 1.5 terabytes of data being held on four Microsoft Exchange servers. To gain some stability for the servers and to cut backup times the university imposed mailbox quotas on users.

Download this free guide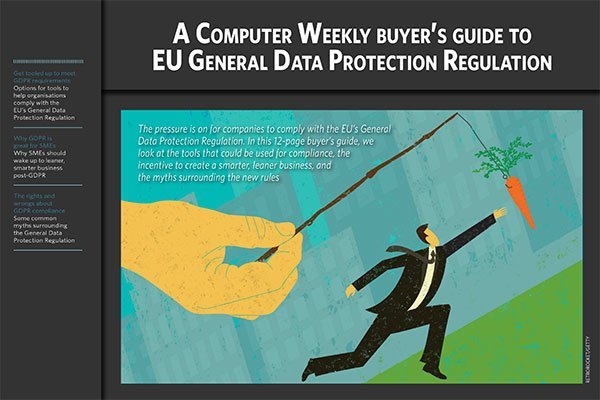 Computer Weekly's Buyer's Guide to GDPR Part 2
In this 12-page buyer's guide, we look at the tools that could be used for compliance, the incentive to create a smarter, leaner business, and the myths surrounding the new rules.
"What we needed was to get things down to a manageable size and to be able to look after things with users unaware of the management taking place in the background."
Kevin Walsh
LJMU technical director
However, the strategy wasn't compatible with the way users accessed their email. Approximately 80% of email was more than 30 days old and needed to be accessed infrequently, which clogged mailboxes. The imposition of quotas also led to the growth of .pst files across the university. Those weren't backed up and were prone to corruption, which frustrated users when they could no longer retrieve vital information.

"We had to impose email quotas of 400 MB with warnings at 75%, no sending allowed after [users reached] 100% and no activity at all after 110%," said Kevin Walsh, LJMU's technical director, computer services. "The situation was also impacting backups as we do fulls every week which were backing up everything going back years," Walsh explained. "Restores also took several days, which was unacceptable."

Email data at the university is processed on four Microsoft Exchange servers, two at each university site, with replication between the primary and disaster recovery (DR) sites. Data is held on two Hewlett-Packard (HP) storage-area networks (SANs): one StorageWorks 5000 Enterprise Virtual Array (EVA) and one StorageWorks 6000 EVA. The SANs have two tiers – one with 15,000 rpm Fibre Channel (FC) disk and one with 7,200 rpm SATA drives.

"What we needed was to get things down to a manageable size and to be able to look after things with users unaware of the management taking place in the background," Walsh said. "There are no compliance requirements, except for those that concern student records and financial information."

Evaluating the email archiving competition

Walsh's team selected Mimosa from a list of eight vendors. Three -- Autonomy Zantaz, Open Text's Email Archiving for Microsoft Exchange and ZL Technologies' ZL Unified Archive -- were eliminated early on because the financials didn't stack up for the distinctive user profile of a university.

"We have 37,000 mailboxes, but only 3,000 of those are staff and we needed licencing that reflected that," Walsh explained, such as Microsoft's campus licencing that charges only for staff.

Among the five shortlisted email archiving vendors were C2C Systems' ArchiveOne, CommVault's Simpana, Mimosa Systems NearPoint for Microsoft Exchange Server, Quest Software's Archive Manager and Symantec's Enterprise Vault.

C2C Systems came closest to winning. However, LJMU chose NearPoint over C2C because the university preferred Mimosa's functionality and integrated archiving platform.

CommVault was rejected because of its use of agents, Walsh said. "Agents are OK if you use CommVault as a backup solution. We didn't feel it made sense for us to use a solution with agents as we have many home users and we wanted a solution that was easy to manage and required no training for users."

Quest's product also required the use of agents and was rejected on those grounds.

Symantec's Enterprise Vault was rejected because the university wasn't comfortable with the product's search technology. "It converts all docs to HTML and searches using Alta Vista, which is nearing end of life, [a situation that] would have to be addressed within the next couple of years," Walsh explained.

The lack of agents in the Mimosa product was a key factor in LJMU's purchasing decision, as the university wanted to avoid the implementation issues and maintenance overhead often associated with them.

Benefits of NearPoint for Microsoft Exchange Server

NearPoint for Microsoft Exchange Server, with its tiered storage options and e-discovery add-ons, captures Exchange log files as they're committed to disk. All email content, including attachments and Exchange data extracted from the log files, is indexed and stored once using single-instancing to optimise storage, which in LJMU's case is in tier two storage on the SAN.

Benefits of NearPoint for Microsoft Exchange Server include a lack of email quotas, archiving of mail after 30 days, user access to all emails and the collection of .pst files back into the system using a .pst harvest function. Backup times are reduced as any email beyond a certain age is archived and not included in the full backup.
Read more on Data protection regulations and compliance