Technology and communications firms continue to invest in risk management
European technology and communications companies are continuing to invest in risk management despite the economic downturn.
European technology and communications companies are continuing to invest in risk management despite the economic downturn.
A survey of more than 100 communication, media and technology (CMT) companies by insurance broking and risk advice firm, Marsh, shows that 85% are placing increased importance on managing risk. And more than a third are stepping up spending on risk management.

Download this free guide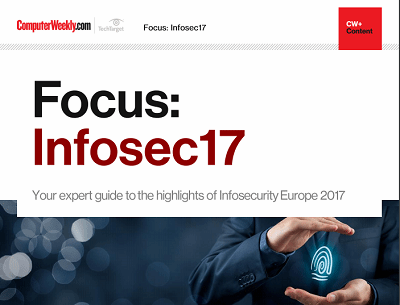 From forensic cyber to encryption: InfoSec17
Security technologist Bruce Schneier's insights and warnings around the regulation of IoT security and forensic cyber psychologist Mary Aiken's comments around the tensions between encryption and state security were the top highlights of the keynote presentations at Infosecurity Europe 2017 in London.
Technology companies, in particular, understand that in an aggressively competitive market, customers are particularly sensitive to risk, says Marsh.
Organisations want to know IT companies can deliver on projects and are demanding that suppliers prove they are able to mitigate the risk of delays or failures.
But many companies are stepping up their risk management because of concerns about general business risks in the downturn, rather than the specific technology risks they face.
Technology companies, for example, may be pre-occupied with basic business issues such as credit risk to the exclusion of more industry-specific risks such as intellectual property disputes, says Fredrik Motzfeldt, CMT leader at Marsh.
Technology companies are at risk from disputes over the use of open source code in commercial products. Another increasingly common area of dispute is over the terms and conditions of outsourcing contracts, as a larger number of companies turn to this business model to reduce cost.
New lines of business can also bring new risks. For example, the ability to pay bills through mobile phones, can expose telecoms operator to the risk of fraud, reputational damage, and liability through errors and omissions, says Motzfeldt.
Technology companies will pay more attention to these industry specific risks as they re-assess risk management processes, he says.
In fact, some 71% of survey respondents said the economic crisis has prompted their organisation to review their approach to risk. This rises to 92% among the top third of companies with the biggest turnover.
"It will be interesting to repeat the survey in six months to see if the increased investment in risk assessment is translating into the most appropriate areas of attention for the sector," says Motzfeldt.
Risk management is often an organisation's last line of defence against the unexpected and getting it right is more important during an economic downturn than at any other time, he says.
Key findings
85% of firms placing more importance on risk management
36% said their risk management budgets would increase
55% says their risk management budgets would not be cut in 2009
30% rate intellectual property as a significant risk
Read more on IT risk management