IBM delivers meanest mainframe
IBM has launched its most important server product a so-called cloud-in-a-box, that combines mainframe processors, Power 7 blades and x86 in a single system...
IBM has launched its most important server product a so-called cloud-in-a-box, that combines mainframe processors, Power 7 blades and x86 in a single system comprising six server racks.

Download this free guide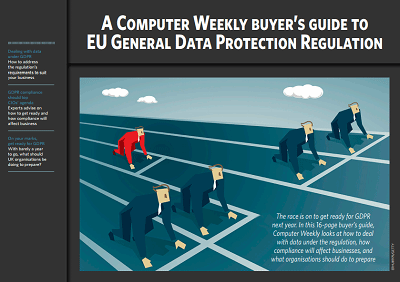 Computer Weekly's Buyer's Guide to GDPR
The race is on to get ready for GDPR next year. Computer Weekly looks at how to deal with data under the regulation, how compliance will affect businesses, and what organisations should do to prepare.
By submitting your personal information, you agree that TechTarget and its partners may contact you regarding relevant content, products and special offers.
You also agree that your personal information may be transferred and processed in the United States, and that you have read and agree to the Terms of Use and the Privacy Policy.
IBM says the new machine is very different . "This is the worlds first truly hybrid computer," said Barrie Heptonstall, IBM Mainframe and Power Systems Lead. He said the product offers both scale-up and scale-out technology built-in. "It can run both mainframe workloads, and Power Blades and System X blades."
Previously code named Grython after the mythical creature with an eagle's head and lion's body, the new hardware platform represents the culmination of a $1.5bn research and development project, which is part of a wider $5bn five year programme involving close collaboration across IBM's software and hardware divisions.
The machines, called the Model 196-96, is a 96 processor, two-rack mainframe combined with four racks for Power 7, System X and newly announced database accelerator engine.
IBM said the traditional mainframe component is scalable up to 80 billion instructions per seconds, representing twice the speed of the current z Series. The Model 196-96 can support up to 96 cores, of which 80 are used by the client, and the others are used by the machine itself.
It includes the world's first implementations of Raid memory - stripping memory - which Heptonstall said was analogous to disk Raid but for memory. This would be used to increase uptime over and beyond the 99.999 availability of mainframe technology. Its 5.2 Ghz microprocessors the claimed to be the fastest in the world and offer 100 new mainframe machine code instructions. Users will need new compilers to take advantage of the new instructions available, But Heptonstall said the new instruction set boosts application performance by a 20-50% performance.
Along with the mainframe there are four additional racks called z Blade center extensions. These are modified racks with high performance 10Gbps network switches and dual power supplies to support Power 7 and System X Blades. The Power7 blades will be available by the end of the year, while System X blades are due to ship in the first half of 2011.
The Model 196-96 includes a DB/2 accelerator, called the Smart Analytics Optimzer, which routes database queries either to the mainframe DB/2 system or a specialist blade server optimised for smart analytics, according to IBM.
The whole environment is monitored using a new management tool called Unified Resource Manager, which manages the hardware environment and the operating system.
IBM's mainframe business saw a sharp decline for Q2 2009.
Read more on Server hardware