Apple retains the best supply chain
A report by AMR Research has named Apple as the company with the best supply chain processess for the third year running.
AMR Supply Chain top 25 2010
1. Apple
2. Procter & Gamble
3. Cisco Systems
4. Wal-Mart Stores
5. Dell
6. PepsiCo
7. Samsung Electronics
8. IBM
9. Research In Motion
10. Amazon.com
11. McDonald's
12. Microsoft
13. The Coca-Cola Co.
14. Johnson & Johnson
15. HP
16. Nike
17. Colgate Palmolive
18. Intel
19. Nokia
20. Tesco
21. Unilever
22. Lockheed Martin
23. Inditex
24. Best Buy
25. Schlumberger

A report by AMR Research has named Apple as the company with the best supply chain processess for the third year running.

According to AMR, which is part of Gartner, Apple is successful because it puts the customer experience first and builds the supply chain to support this.

Download this free guide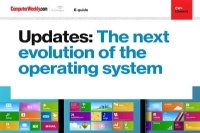 Unpacking the future of operating systems
In this e-guide, we take a look at how updates are the next evolution for operating systems. From security and iris recognition to 3D modelling and easier recognition with OneDrive, updates are key to keeping your device fresh and, most importantly, safe.
Supply chain refers to the processes from order to delivery, and technologies such as ERP systems are critical.
For its 2010 supply chain top 25, AMR uses available financial information and the opinions of peers.
"By embedding product and process innovation in supply chain operations and consciously managing and shaping demand from a customer, production and fulfillment standpoint, the companies included in our top 25 are doing a lot more than just shipping," said Kevin O'Marah, group vice-president at AMR Research.
He advises businesses to take note of the strategies used by the top 25. "Work outside-in, starting with your customers and working your way back and around your network of trading partners to design a profitable response. Remember that one size does not fit all, define how many supply chain types you have, and design a customised response for each."
Debra Hofman, research vice-president at AMR Research, said responsibility for the supply chain is moving to board level. "Twenty years ago, a typical product company had the supply chain reporting to manufacturing, with responsibility mainly for inbound materials management and outbound shipping."
"New data shows that supply chain reports to manufacturing in only 6% of companies surveyed, while 61% have the head of supply chain reporting directly to the CEO, general manager or president of the business. It seems clear that supply chain has grown up and the business has taken notice."