Ofcom starts anti-piracy code consultation
Communications regulator Ofcom has issued a consultation on a code of conduct that aims to cut online copyright infringement by up to 70%.
It is also...
Communications regulator Ofcom has issued a consultation on a code of conduct that aims to cut online copyright infringement by up to 70%.
It is also asking for input to set up the initial obligations that copyright holders and internet service providers (ISPs) will have to meet to comply with the Digital Economy Act rushed through parliament this month.

Download this free guide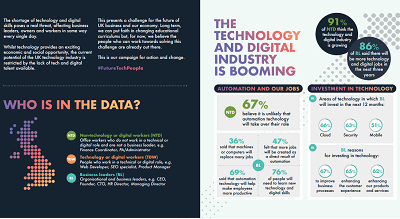 Infographic: How to future-proof UK technology
There is no doubt that the technology industry is booming right now, bringing with it exciting social and economic opportunities. However, there is a real fear that the UK industry may be stunted due to the lack of talent available. This e-guide helps to break down the future fears and expectations of dozens of business leaders and tech workers.
The act requires qualifying ISPs to notify alleged online pirates that they are breaking the law, and to keep a record of the accused who do not challenge the allegations.
The act also gives the secretary of state the power to ask courts to get ISPs to apply technical measures such as bandwidth throttling, blocking and disconnection against persistent pirates and websites that host copyright content without permission.
It requires ISPs to give subscribers enough information to challenge the allegations, and access to a "robust and effective appeals mechanism".
Courts can order ISPs to give rights holders enough personal details of blacklisted subscribers for them to take legal action against infringers.
Any processing of subscriber data must comply with relevant data protection laws, Ofcom said.
Ofcom will have to approve and enforce the code of conduct that governs use of the measures, as well manage a dispute resolution procedure.
Ofcom has to report quarterly to the government on estimated levels of unlawful file sharing and legal actions by copyright owners. It will report annually on other factors, such as consumer education campaigns and the availability of lawful alternative services.
Ofcom must implement the initial obligations code within eight months. This includes three months for approval by the European Commission.
"We intend to begin work immediately on establishing a robust subscriber appeals mechanism, and a framework for handling disputes," Ofcom said.
It would also set up a way to estimate levels of unlawful file sharing so that it had a baseline against which it can assess the impact of the measures.
The draft code will be published for consultation no later than May 2010, followed the final code by the end of September 2010, A simultaneous draft statutory instrument embodying the approved code will go to the European Commission for consideration.
Ofcom said it would invite consumer groups, ISPs and copyright owners to give their ideas and feedback on proposals, and would set up stakeholder liaison groups to provide regular input.
Read more on IT legislation and regulation