Gordon Brown turns his focus to digital economy
Gordon Brown's raft of new measures to boost the digital economy has shown the growing awareness in government of the importance of technology.
Gordon Brown's raft of new measures to boost the digital economy has shown the growing awareness in government of the importance of technology.
His plans include:
The creation of a web portal called MyGov that allows individuals to personalise their access to public services.
£30m worth of funding to create an Institute of Web Science, which will work on the economic and social benefits of the web
All public service contracts over £20,000 are to be made available on a free online portal by the end of the year for businesses to bid for
Roll out broadband access to all, with digital champion Martha Lane Fox broadening her role to set up a Digital Public Services Unit in the Cabinet Office
The publication of an online inventory of all non-personal datasets held by departments, creating a modern "Domesday book", which could be mined for information by developers and businesses
A Number 10 iPhone application that will provide users with news, video and audio
Brown said in a speech this morning that he wants Britain to be a world leader in the digital economy and said this would not be possible without everyone having internet access. But his announcement did not define a minimum speed that everyone would receive and he did not announce any more funding for broadband roll out.

Download this free guide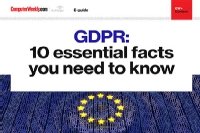 10 essential facts you need to know about GDPR
In this e-guide, we give you the top 10 key facts you need to know about the General Data Protection Regulation according to privacy lawyer and KuppingerCole analyst, Karsten Kinast.
Brown said the MyGov web portal would provide each person with a dashboard for public services. He said it "marks the end of the one-size-fits-all, man-from-the-ministry-knows-best approach to public services".
He added it would not require large changes to government IT infrastructure, but said, "The open source technology that will make it happen is freely available."
Brown said, "I want Britain to be the world leader in the digital economy which will create over a quarter of a million skilled jobs by 2020."
His comments come just a week after IT industry association Intellect published a report calling for more support for the technology industry.
But the IT skills shortage is likely to be a problem for the government in fostering the innovation it wants. Sue Black, head of computer science at Westminster University, said the government needs to give serious thought to nurturing talent in the UK.
"It was great to hear this morning that there will be £30m for a new Web Science Institute and substantial investment in digital inclusion, but for me this information is tempered with the knowledge that university computer science departments are closing.
"Lack of support for computer science now will mean a lack of experts in the future. So when we are ready to take a lead in the global technology arena in 2015 we will suddenly realise that all the fundamental expertise we need is overseas."
Read more on IT legislation and regulation