Microsoft and Citrix combine forces for desktop virtualisation drive
Microsoft and Citrix have announced a programme to jointly develop desktop virtualisation technology in a move they claim will lead to products that will simplify the way IT departments manage their desktop PCs.
Microsoft and Citrix have announced a programme to jointly develop desktop virtualisation technology in a move they claim will lead to products that will simplify the way IT departments manage their desktop PCs.

Download this free guide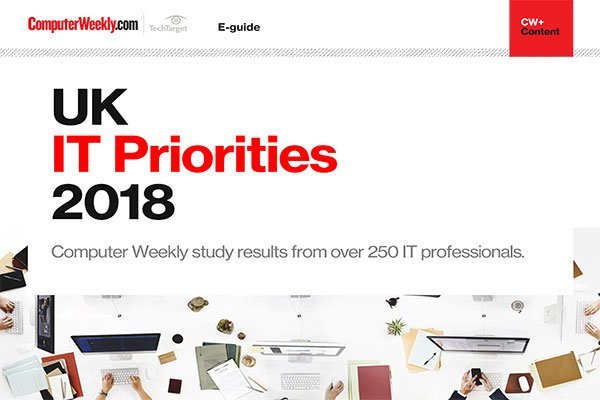 UK IT Priorities 2018 survey results
Download this e-guide to discover the results of our 2018 UK IT Priorities survey, where IT leaders shared with us what they are going to be investing in over the coming 12 months.
By submitting your personal information, you agree that TechTarget and its partners may contact you regarding relevant content, products and special offers.
You also agree that your personal information may be transferred and processed in the United States, and that you have read and agree to the Terms of Use and the Privacy Policy.
The move is part of a package of measures unveiled by Microsoft which aim to kick-start businesses' use of virtualisation technology to host applications and data in datacentres and the cloud, rather than on desktop PCs.
"We are trying to enable the mainstream adoption of desktop virtualisation," says Dai Vu, director of virtualisation solutions marketing at Microsoft. "With companies upgrading from XP to Windows 7, it is going to give people the opportunity to think about desktop virtualisation in its widest sense."
Microsoft plans to release virtualisation technology in the next service pack for Windows Server 2008, which will aim to give users running a virtual desktop an experience that more closely mirrors the performance of a desktop PC.
Under the deal, Citrix will work with Microsoft to extend the latter's desktop virtualisation technology to cover a wider range of devices, such as mobile devices and laptops, and a wider range of scenarios, for example making it easier for businesses to run virtualised desktops in branch offices.
Straightforward licensing
Microsoft has also simplified its licensing for virtualised desktop infrastructure, in a move designed to encourage businesses to try the technology.
Under the new terms, businesses will be able use virtual desktops as part of Microsoft's Software Assurance licence scheme, rather than having to buy separate licences, previously charged at $23 per desktop per year.
Users will also have the right to access their virtual desktop remotely without having to buy an extra licence.
The company has introduced a promotion, dubbed Rescue for VMware VDI, in an attempt to persuade businesses to move away from VMware's desktop virtualisation technology.
The deal allows customers to trade-in up to 500 licences for VMware's desktop virtualisation package in exchange for Microsoft VDI and Citrix Xen licences for one year.
Microsoft claims that many business have not used the VMware desktop virtualisation licences.
Another promotion will allow IT departments to buy licences to virtualise up to 250 desktops at a 50% discount.
"Companies are still playing a waiting game. Everyone is waiting for virtualised desktops to take off. $28 will get you started with a virtual desktop. It is very compelling, very easy, and you don't have to go to the CFO to get it approved," says Summit Dhawan, vice-president of product marketing for Xen Desktop at Citrix.
Main announcements
Improved licensing model for virtual Windows desktop
From 1 July 2010, Windows Client Software Assurance customers will no longer have to buy a separate licence to access their Windows operating system in a VDI environment.
Windows Client Software Assurance and new Virtual Desktop Access licence customers will have the right to access their virtual Windows desktop and their Microsoft Office applications hosted on VDI technology on non-corporate network devices, such as home PCs and kiosks.
Windows XP mode in Windows 7 no longer requires hardware virtualisation technology. This aims to make virtualisation more accessible for small and mid-sized businesses migrating to Windows 7 Professional or higher editions, while still running Windows XP-based productivity applications.
Two new features to come in the Windows Server 2008 R2 service pack 1
Microsoft Dynamic Memory - will allow customers to adjust memory of a guest virtual machine on-demand to maximise server hardware use.
Microsoft RemoteFX - will allow users of virtual desktops and applications to have an experience that is almost as good as using a traditional desktop PC.
Technology agreement with Citrix Systems
The companies will work together to enable the high-definition HDX technology in Citrix XenDesktop to enhance and extend the capabilities of the Microsoft RemoteFX platform.
Promotions
Rescue for VMware VDI promotion - allows VMware View customers to trade in up to 500 licences.
VDI Kick Start promotion - offers new customers a discount of more than 50% off the estimated retail price.
Read more on Operating systems software