It is not cloud versus in-house, says Forrester
Cloud computing does not suit all companies or applications, but it should be a key part of any organisation's outsourcing strategy, says Forrester...
Cloud computing does not suit all companies or applications, but it should be a key part of any organisation's outsourcing strategy, says Forrester Research.

Download this free guide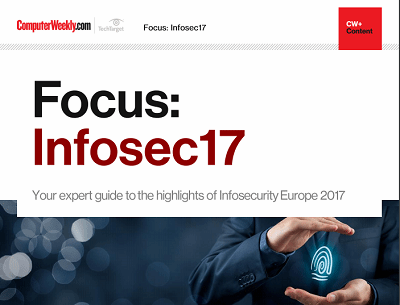 From forensic cyber to encryption: InfoSec17
Security technologist Bruce Schneier's insights and warnings around the regulation of IoT security and forensic cyber psychologist Mary Aiken's comments around the tensions between encryption and state security were the top highlights of the keynote presentations at Infosecurity Europe 2017 in London.
By submitting your personal information, you agree that TechTarget and its partners may contact you regarding relevant content, products and special offers.
You also agree that your personal information may be transferred and processed in the United States, and that you have read and agree to the Terms of Use and the Privacy Policy.
Businesses are faced with a set of choices for providing services, and success means making the right choices, James Staten, principal analyst at Forrester, told Computer Weekly.
"This is not a black and white issue of in-house versus the cloud," he will tell attendees of the co-located Forrester EMEA 2010 Security Forum and Infrastructure & Operations Forum in London on 11-12 March.
Right sourcing means choosing the most appropriate model to optimise operations for each company and each application according to regulatory and business demands, he said.
Cloud services may not necessarily be more cost or operationally efficient than providing the same service in-house or outsourcing to a traditional application hosting provider, said Staten. "Cloud-based services may in fact be more expensive if the business does not have good network access from all sites or operates under a complex set of regulations."
He said it may be costly to work around different network access speeds and complex company and government regulations. "If demand for a particular service is constant and the business has a good infrastructure, it may be far more efficient to provide the service in-house."
According to Staten, organisations should typically focus on what they are good at and outsource the rest, paying careful attention to regulations when choosing third-party providers. "Companies that fall under the EU privacy directive, for example, should choose hosting companies or cloud providers that can guarantee data will not be stored outside Europe."
Companies are ultimately responsible for their data, so they must ensure that third parties comply with government regulations. They should also ensure adequate back-up for their data, he said.
Bechtel, a San Francisco-headquartered engineering, construction and project management multinational, is a good example of a company following a right-sourcing strategy, he said.
The company provides access to filesharing, e-mail and other applications through an online portal and regularly switches between in-house, hosting and cloud services models.
"Bechtel conducts regular reviews of how these services are provided to ensure the most efficient method is being used. We recommend other companies take a similar approach," said Staten.
Read more on IT risk management