Tories would push fibre to the home to meet 100Mbps target
The Conservative Party ...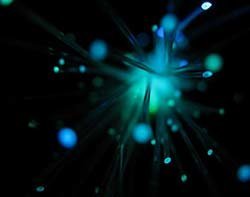 The Conservative Party will push for fibre to the home (FTTH) networks to fulfil its election promise to bring 100Mbps broadband to at least two-thirds of UK homes by 2017.
In a written reply to a Computer Weekly query about FTTH, a Tory spokesman said, "We would be minded to be technologically neutral about this but, yes, this is the very least of our ambitions."
Broadband operators currently plan to run fibre to the street cabinet (FTTC), and then a mix of cable and wireless technologies to complete the link to subscribers' premises.
Some 21 countries provide FTTH to at least 1% of their population, according to the FTTH Council, a lobby group. The UK is not among them.
The Tory promise implies the UK would follow leads in France, where the government is spending €2bn on FTTH, and Australia, which plans to spend £21bn. The UK's Broadband Stakeholders Group estimated it would cost almost £30bn to run fibre to every home, office and farm in the country.
Allowing a mix of technologies and changing the regulations governing resale could speed up the roll-out and lower costs to consumers. Many cities and regional development agencies are installing their own 100Mbps fibre networks, often using EU money.
But they are constrained by business rates regulations in offering spare capacity to third parties. The Tory spokesman said the party would look in detail at letting them resell spare capacity without the rates burden "closer to the time".
He said the Conservatives would prioritise a review of the business rates scheme with respect to fibre networks, described by parliamentary-industry group Eurim as the biggest single barrier to investment in high-speed networks.
"We have not put a firm deadline on when this would be completed but it is something that we want to look at as a priority," he said. "A system which benefits the large operators by making their rates comparatively less is not able to encourage new entrants or market choice."
He said the Tories would like to see the market compete on both infrastructure and services. But BT and Virgin Media together own more than 95% of the nation's core network capacity.
"Our policy is not a comment on the provision made by Virgin Media and BT, it is about creating a scenario where others are able to compete," he said.
He said the party was not currently considering insisting that BT and Virgin Media let other network operator access their networks. "We want to open infrastructure [rather than networks] to encourage investment in networks," he said. "To say at the same time your networks would be open to others to use would disincentivise investment."
The Tories believed the market would push high speed networks into rural areas provided the regulatory set-up was right. "Beyond that we have the option of using the 3.5% [digital switchover levy on the BBC licence fee]," he said.
Read more on Networking hardware