Cosy cloud coterie snuggles into top nob govIT jobs
Mmmmmits snug at the top. Especially if you're Julian David, IBM's top UK salesman, who last week was picked to be Director General of Intellect, the ICT oligopoly's trade association.
It's only three years since David bagged the sale of the century, getting the Cabinet Office to re-badge IBM's cloud computing slogan as HM G-Cloud. Now he's not only got the cosiest seat in the business, but Andy Nelson, his apprentice on the G-Cloud programme, has been appointed government CIO at the Cabinet Office, the most senior job in government IT.
Imagine how made up David was when, chuckling over his cognac at the Intellect hearth, he learns that Nelson, Ministry of Justice CIO and senior responsible owner for HM G-Cloud, would be his opposite number in government.
How cosy it will be round the fireside when the pair are joined by Cabinet Office permanent secretary Ian Watmore, who was Nelson's colleague at Anderson Consulting (later known as Accenture) for seven years after they joined the 1980 intake.
How quaint last March's government ICT strategy now seems, with Cabinet Office minister Francis Maude vowing to "put an end to the oligopoly of large suppliers that monopolise [government] ICT provision".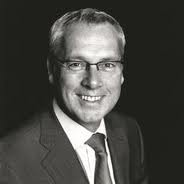 All that puff and bluster for aught
David moves into office at a crucial time for IBM. All his work promoting the G-Cloud is about to come to fruition. But it will need an extra push to get public bodies around the country to swallow it, close all their data centres, sack all their techies and give all their computer systems over to IBM or whichever branch of Acme Data Corp. they happen to buddy. That's what the G-Cloud promises.
David's just the man for the job. For though his 28-year career at IBM was officially terminated in 2010, he has an unrivalled track record selling IT industry fads.
He was there in 1998 as IBM's European Marketing director, flogging the Year 2000 bug fix to a terrified public, telling them it would be "the kiss of death" to anyone who didn't fix it.
He was there again flogging disastrous Enterprise Resource Planning systems in the millennial boom years.
The fateful year SAP began selling IT disasters to the retail industry, there was David again as ERP marketing director at the Retail Industry Unit of IBM, telling supermarkets how by spending mere hundreds of millions of pounds they could turn reliable old systems into ones that would burn their money more efficiently.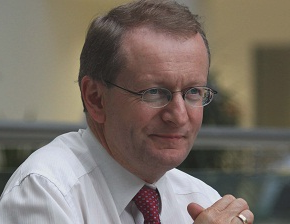 Retailers lapped it up. Andy Nelson, our new government CIO, was there in 1997 – lapping it up as Asda director of computer services, though only as long as it took to outsource the supermarket's computing to IBM.
Asda's then new CEO Allan Leighton did the deal after returning from a Harvard MBA programme. Two Harvard professors came to see it went smoothly.
Bad reputation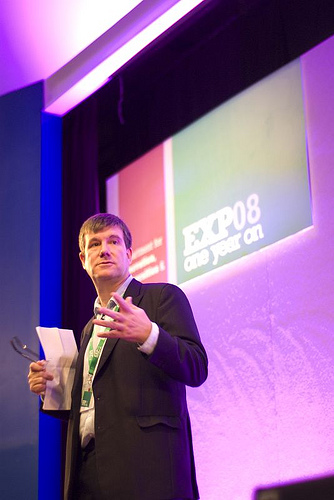 It might not have gone so smoothly, but it certainly gave the eggheads something to think about when that first raft of ERP deals came to fruition in the mid-noughties.
MFI's £50m IBM SAP implementation led to losses and two boardroom scalps.
Sainsbury's had outsourced its entire IT in a £1.8bn deal with Accenture, then overseen by Ian Watmore. Four years later, its first ever net loss was attributed to supply chain and IT problems.

Sainsbury's kicked Accenture out and wrote off £260m IT spend. Bringing its IT back in-house was said to have helped turn the business around. Its management still denounces outsourcing, "unequivocally".
Angela Morrison, the woman who kicked Accenture out of Sainsbury's, had earlier kicked IBM out of Asda, undoing the work our new man Nelson had done in 1997.
Asda's subsequent, do-it-yourself SAP implementation was so successful it was rolled out across the rest of Walmart, its parent. Walmart's success was said to stem from doing its own IT, because it was too integral to trust to an outsourcer.
Other companies followed suit. JP Morgan bank terminated its $5bn IBM outsourcing contract in 2005. It had been the largest such deal in banking. Even Gartner, cheerleader for the US IT industry, admitted it was "time to stop compulsive outsourcing".
Worse still for IBM, the dotcom bust had forced the private sector to freeze IT spend. So IBM and its ilk turned on the public sector, which was famously the only sector spending any money. Watmore was now in government, overseeing the spending.
That's where Julian David pitched up after retail. As vice president of IBM public sector business he started flogging the same big outsourcing deals that had gone tits up in the private sector.
There was some good news to boost his chances.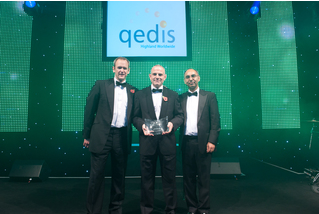 Boots terminated a £710m IBM outsourcing contract only half-way through its term in 2007, apparently because it had been so successful its modernisation finished early.
But Boots vowed never to put all its eggs in one basket ever again.
Rob Fraser, its group IT director (now at anti-outsourcer Sainsbury's), said outsource suppliers had no interest in helping customers cut the cost of their IT.

With friends like these…
But outsourcers were now busy trashing their reputations in the public sector. They made such a good job of it that government IT became synonymous with disaster. And government is going through the same re-evaluation of outsourcing industry went through in the mid-noughties.
This is the apparent legacy of John Higgins, Intellect boss for 14 years. He became head of the CSSA in 1998 and rode the rise and fall, consolidation of power, establishment of a bankrupt contractual model, left a trail of IT disaster stories and an industry with a reputation for bodge and exploitation – a reputation that became so well established the coalition government was able to define itself in opposition to it – to define Labour as the government of big-state IT failures. Government has denounced his trade association's membership and methods as the corollary of Labour IT. It has tried to mend their mutual record of kaput computing by rallying tech entrepreneurs not normally associated with Intellect.
On the occasion of David's appointment last week Intellect issued a press release in which the DG-designate said he looked forward to doing his bit to improve skills in the industry and support SMEs.
CW asked Intellect for David's SME credentials, Intellect said he had wide experience and had worked with SMEs.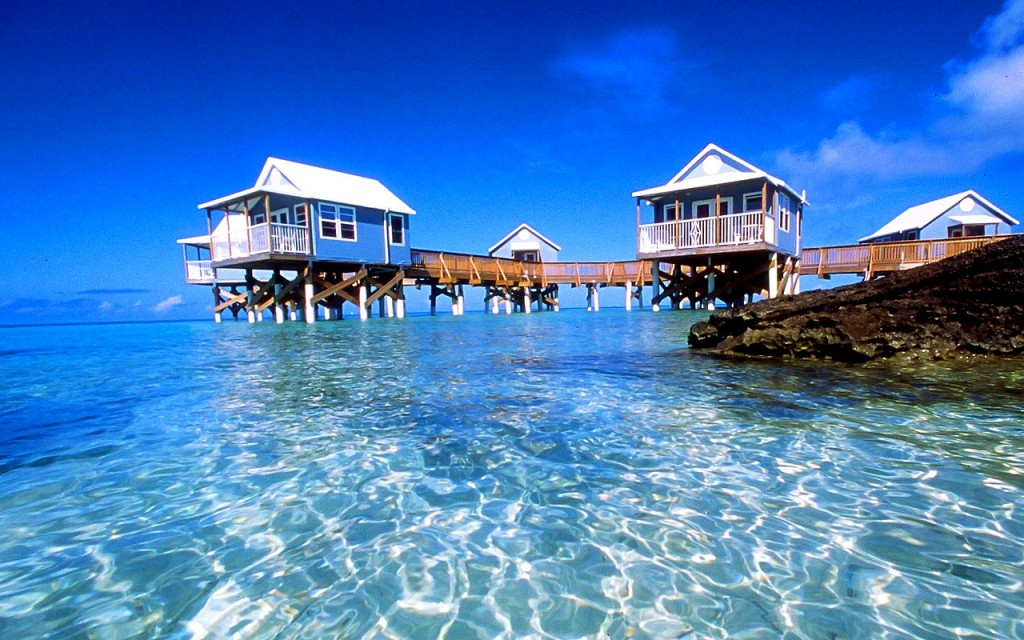 David used to flog computers to SMEs as vice president of IBM's SME business. But his SME credentials consist of just eight months as a board director of EGS Group, a £3m company that had worked with him on the Cabinet Office G-Cloud plans in 2010.
He left EGS in May 2011 to open a UK office for Hong Kong-based, Bermuda-registered, Azeus.
…who needs SMEs?
David's SME credentials do not compare well with the notable notches he marked up as big business honcho at IBM.
The most notable of his recent achievements was an infamous £400m outsourcing deal by which IBM sought to gain control of public computing across the entire South West England. It is hard to imagine this megalomaniacal plan having any regard for SMEs.
Flush with the Boots boost in 2007, IBM formalised an agreement in principle to subsume the IT functions of 36 councils and emergency services in Cornwall, Devon, Dorset, Somerset, Gloucestershire and Wiltshire.
It initially involved IBM taking 75 per cent ownership of a public-private partnership called SouthWest One and acquiring the IT functions of Somerset and Taunton Deane Councils and Avon & Somerset Police.
It would implement a SAP system to run them and deliver £192m savings over 10 years. David said the project would cut costs and boost the local economy. But it floundered.
The SAP implementation went awry. A report by Somerset County Council Review Panel in 2010 said participating councils would have to renegotiate their contract before they would realise the savings IBM promised at the outset.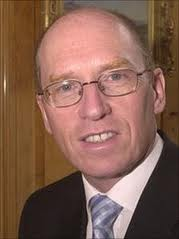 The then Somerset CEO Alan Jones had earlier denied specific allegations of SAP problems and contract failures made by Ian Liddell-Grainger, local MP.
£65m of savings had already been booked, Jones claimed in 2009. The 2010 report said the venture had delivered only £2m of savings, had no clear idea how it would produce the rest and could anyway conceive only an estimated £45m cut in procurement costs.
The affair was murky, with Unison and councillors complaining about unwarranted secrecy. IBM had blocked an ITV reporter from using a little-known public scrutiny law to view the contract. Liddell-Grainger made unsubstantiated allegations of corruption. Jones got embroiled in grubby in-fighting with councillors.
David personally played an important part in turning this trashy reputation into a revamped sales story for outsourcers. Called the cloud, it was a transcendental vision worthy of the late 90s ERP pitch.
The cloud was a rebranding of ideas already in David's public sector pitch in 2007: departmental silos were bad, paying IBM to consolidate your data centres and virtualize your systems was good. Asset re-use was the carrot on the stick.
The fully formed cloud pitch was essentially outsourcing with dodgy bits stuck on. It promised to cut costs, cut jobs and deploy a radically new sort of computer system.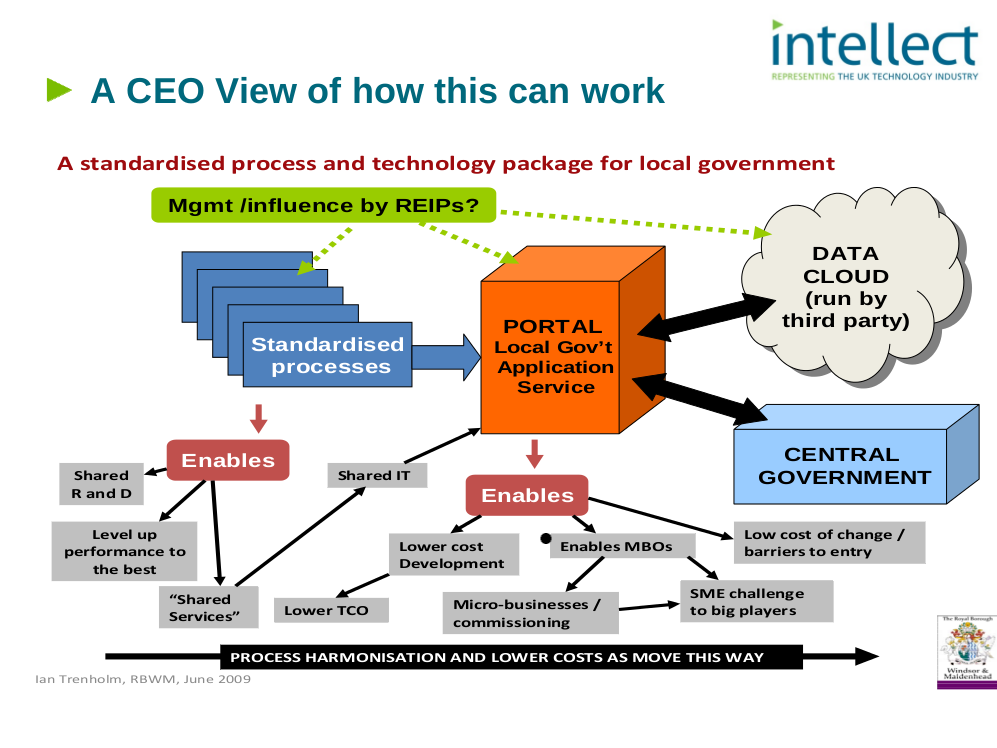 It'll be different this time
As president of Socitm in 2010, Jos Creese promoted those same ideas, proposing local authorities sack computing staff and buy services instead from the cloud.
Creese fell in with David in 2006 when as CIO of Hampshire County Council (home of IBM HQ) he did a five year deal to rent an enterprise architecture made of elements that would later underpin IBM's cloud.
Hampshire had at the time just celebrated the successful installation of an SAP system. Council IT staff had done the installation themselves. Hampshire systems were running £2m-a-year more efficiently.
Creese's ideas echoed those touted by Ian Trenholm, CEO at the Royal Borough of Windsor & Maidenhead, a council with intimate ties to the coalition government. David's cloud pitch did too.
The shared idea was that if councils standardised their business processes, their organisations would readily plug into the cloud.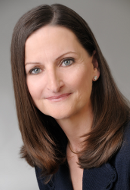 Sainsbury's had adopted the same ideas for its abortive Accenture transformation in 2000 – the one that led the supermarket to realise how IT was too important to entrust to someone else.
Margaret Miller, its then CIO, said how was trying to adopt standard business processes so it could use commodity computer systems. Miller now advises government customers for Accenture.
Pompous postlude
The idea runs contrary to the bottom-up noises the coalition government made before coming into power.
It runs contrary also to agile and lean, the empowering methods to which government has turned in the hope of reversing the trend for moronic public computer ventures – methods more akin to Sainsbury's, Asda and Hampshire in the days when they took IT into their own hands.
The Cabinet Office is meanwhile making a song and dance about getting SMEs into the G-Cloud. But the cloud will ultimately be a greater force for consolidation than economic regeneration.
When every council in the South West is using the same business processes, IBM's SouthWest One will be able to make a better case for subsuming their IT. The G-Cloud may not, as we are told, be a greater opportunity for SMEs, but merely something that must be made to accommodate SMEs so they are not excluded entirely.
Placatory postscript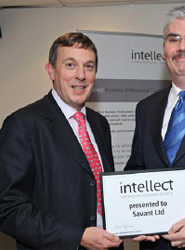 David will have to work hard to prove his SME talk is anything more than hot air. He will have to work harder to rescue the legacy left by Higgins, who you might think a decent man who has done good work, but showed poor judgement by staying in office after the wind changed.
As it happens, your jaded correspondent has had the good fortune to meet the new DG, and was struck at what a jolly good chap he appeared to be. That might better qualify him for the job than any publicity guff about SMEs, for the current bout of government-led reforms have striven for genuine collaboration to replace the adversarial relationships that defined its relationship with ICT suppliers in the past. But what industry really needs is a reformer, not a placatory pair of hands.