Are outsourcers using in-house knowledge gap as a license to print money?
I was sent this interesting article by a company that makes security software.
Jane Grafton, director at Lieberman Software, says that outsourcing has a dark side in that in-house IT security bosses are being ripped of by some outsourcers, which are blinding them with science and jargon to force them to spend money on top of contracts.
She has put together a script of a typical conversation between an IT security manager and a security outsource service provider.
If this is the case is quite scary to think that the companies you outsource your security to might be breaking that vital trust that a business and outsourcer should have.
Click the document below to read the script. Please bear in mind that Lieberman makes software that automates some security activity before reading the attached document.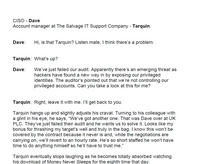 Loading…