Video: Dell XPS 13 - The business focused ultrabook
Dell has followed HP and Sony by unveiling their higher end ultrabook, the Dell XPS 13, at the Intel press conference in CES. The ultrabook's starting price is $999 (£646) and will be available in late February.
The XPS 13 has a 13.3 inch Gorilla glass display, runs on an Intel dual-core Core i3, i5 or i7 processors, either 128GB or 256GB of solid-state hard disk and 4GB of RAM. Other features include a USB 3.0 port and a webcam.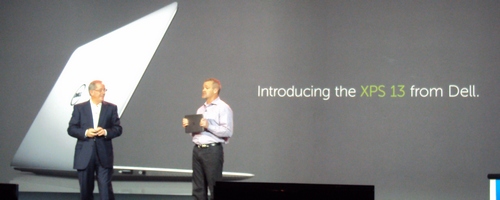 The XPS 13 might appear to be a consumer product but this is most definitely a product aimed at the business end of the market. Dell Vice Chairman Jeff Clarke, who unveiled the Ultrabook at CES 2012, said "We're hearing this consumerisation phenomenon happening in the market place. It's undeniable, this is a great product for consumer and it's enterprise ready".
Dell closed down both its Mini netbook and the Streak tablet/smartphone range which were consumer-focused products in order to concentrate on more profitable segments of business computers and mobile devices with the XPS 13 being the first in this new direction.
Clarke went on to say that Dell is looking to make it easier for IT departments to choose the XPS as it comes equipped with TPM from Bitlocker data encryption, Dell ProSupport service and a full range of configuration services, custom integration, custom images and custom asset tagging.