London Marathon 2008: See how they run!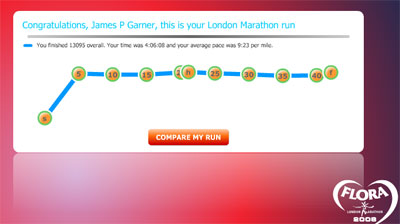 ComputerWeekly.com's brave web editor, James Garner, crossed the marathon finish line with a time of 4 hours, 6 minutes this Sunday. Not surprisingly, he's taken time off to recover today. But thanks to the miracles of modern technology, we can not only verify his finish time (useful for independently auditing that office sweepstake) but we can even see how his pace varied throughout the run. It's all thanks to the trainer chip tracking technology that the Flora London Marathon team used this year to track runners' times.
Congratulations, James! We hope you recover soon so that we see you back in the office some time this week! See below for a couple of images.

Just after the finish line as the heavens opened again
At home with son Jack and medal