Hospitality sector IT - Caterersearch.com Web Awards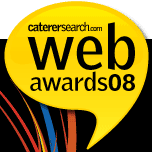 One of the great things about a career in IT is that it gives you chance to work in a variety of sectors, since IT is so integral to every kind of business these days. Well, if you work within the catering and hospitality sector, then this could be of interest to you. If you're responsible for website operations for a hotel, restaurant chain, food supplier, pub chain, catering firm, etc, the Caterersearch.com Web Awards could be your chance to show off your efforts.
The entry deadline is 5 September, so there's still plenty of time to get your site entered.