Its all getting a bit much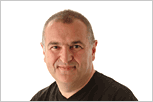 (Today is Friday and I thought Mickey would post).
Here is a catalogue of web 2.0 tools I am using:
Is this normal, expectational or light-weight for a 21 century dude?
My thoughts are that the 13 above are about the maximum any sane individual can cope with, the idea of adding more that (might) improve my day to day activities seems counter-intuative.
How do you feel about this, have I gone over the top or should I be adding more. Is knowledge power or in this case just confusion?