Datacentre energy efficiency and green IT
Learn how to green your datacentre with advice on increasing datacentre energy efficiency, building a case for a sustainable datacentre, and complying with UK and EU energy-efficiency regulations.
In Depth :

Datacentre energy efficiency and green IT
As the dust settles on the EU referendum and the new-look US-Europe Privacy Shield data transfer agreement, we look at what it could mean for European datacentre operators Continue Reading

Upgrading a datacentre cooling system is an expensive undertaking, but should operators stick with what they've always done or try something new? Continue Reading

Datacentre operators often talk up the physical security measures they have in place, but are they at risk of overlooking cyber threats? Continue Reading
View All In Depth

Download this free guide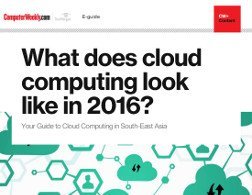 What does cloud computing look like in 2016? ASEAN Guide
Cloud computing today is in a phase of rapid take-up. This guide gives examples of how cloud computing is being harnessed in South-East Asia, with a close look at projects at TMB Bank in Thailand and Singapore's DBS. With demand on the up and government rules being formulated around data protection, countries in the ASEAN region need local ...
Blog Posts :

Datacentre energy efficiency and green IT
This is a guest blog post by Luke Whitehead, head of European marketing, Couchbase We've all heard about the digital economy: a modern economy supported by digital computing technologies. Talk of ... Continue Reading

The global cleantech sector has emerged as viable, thriving and future-oriented. Once fuelled by fledgling start-up companies emerging with marketable ideas, products and services, cleantech today ... Continue Reading

The Department of Energy & Climate Change has announced a new consultation process on the Continue Reading
View All Blog Posts
Opinion :

Datacentre energy efficiency and green IT
Quocirca's Clive Longbottom runs through the list of items enterprise IT managers should look for in prospective colocation providers Continue Reading

There are only three processors left in the market for mission-critical applications. Which should you chose ? Continue Reading
View All Opinion