Levente Varadi - Fotolia
Synergy Research Group hails 2016 as landmark year for cloud services growth
Market watcher's latest cloud market tracker suggests services market is growing three times faster than off-premise hardware and software market
The cloud services markets, which include infrastructure as a service (IaaS) and software as a service (SaaS), are now growing three times faster in revenue terms than the cloud infrastructure hardware and software segments.

Download this free guide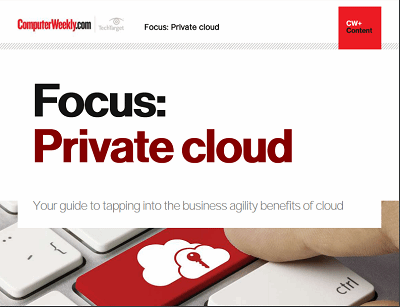 Is private cloud a test bed for public cloud?
Making a cloud sacrifice by doing private? If the business information is sensitive, private cloud could be a good fit, but may require making some compromises (compared with using public cloud) with regard to pricing, scalability and functionality. Join Computer Weekly as they take a look at what enterprises need to consider before moving to the private cloud, from a technical and business agility perspective.
By submitting your personal information, you agree that TechTarget and its partners may contact you regarding relevant content, products and special offers.
You also agree that your personal information may be transferred and processed in the United States, and that you have read and agree to the Terms of Use and the Privacy Policy.
That's according to Synergy Research Group's latest cloud market data, which tracks the annualised revenue growth of service providers and suppliers operating in half a dozen service and infrastructure segments.
Its data shows revenue generated by the cloud services market overtook the amount produced by sales of cloud-enabling hardware and software for the first time in 2016.
The former is essentially where the likes of Amazon Web Services (AWS), Google, Microsoft and Salesforce play, while the latter is home to on-premise hardware suppliers such as Dell-EMC, HPE and Cisco.
Even so, Synergy calculates the amount spent on cloud-enabling hardware and software exceeded $65bn between the final quarter of 2015 and the third quarter of 2016, with private cloud environments responsible for more than half of it.
These investments, in turn, paved the way for the cloud infrastructure services players to generate $30bn over the course of the same time period, while the enterprise SaaS providers raked in more than $40bn.
The market watcher compiled its findings by tracking the growth of the private, public, hosted private and enterprise SaaS markets, as well as the IaaS and platform as a service (PaaS) sectors.
Read more about cloud services adoption data
Synergy's data shows the IaaS and PaaS markets had the highest combined revenue growth rate, at 53%, followed by hosted private cloud infrastructure services (35%) and enterprise SaaS at 34%.
Meanwhile, the collective growth of the cloud market has contributed to a 25% annual rise in revenue for service providers and hardware suppliers over the course of the 12 months to September 2016.
Jeremy Duke, chief analyst and Synergy Research Group founder, said 2016 may go down as the year cloud started shaking up investment trends across multiple IT segments.
"We tagged 2015 as the year when cloud became mainstream, and I would say 2016 is the year cloud started to dominate many IT market segments," he said.
"Major barriers to cloud adoption are now almost a thing of the past, especially on the public cloud side. Cloud technologies are now generating massive revenues for technology suppliers and cloud service providers, yet there are still many years of strong growth ahead."
Read more on Infrastructure-as-a-Service (IaaS)