Thep Urai - Fotolia
Enterprise IT spend on non-cloud infrastructure set to slump in 2015
IDC research shows enterprises are spending more on cloud-enabling hardware, and are set to for the next five years
The amount of money invested in on-premise IT infrastructure will fall by 1.6% in 2015, as enterprises look to move more workloads and applications to the public cloud.

Download this free guide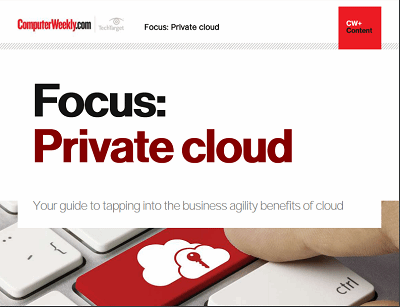 Is private cloud a test bed for public cloud?
Making a cloud sacrifice by doing private? If the business information is sensitive, private cloud could be a good fit, but may require making some compromises (compared with using public cloud) with regard to pricing, scalability and functionality. Join Computer Weekly as they take a look at what enterprises need to consider before moving to the private cloud, from a technical and business agility perspective.
By submitting your personal information, you agree that TechTarget and its partners may contact you regarding relevant content, products and special offers.
You also agree that your personal information may be transferred and processed in the United States, and that you have read and agree to the Terms of Use and the Privacy Policy.
According to IDC's Worldwide Quarterly Cloud IT Infrastructure tracker, enterprises are on course to spend $32.6bn on cloud-related IT infrastructure in 2015, which is 24% more than in 2014.
This means around a third of enterprise IT spend will be invested in cloud-enabling technologies. The remainder of this sum ($66.8bn) will be used to purchase on-premise servers, storage and Ethernet switches.
Despite this, IDC predicts the amount spent on non-cloud IT infrastructure will fall by 1.6%, as organisations shun on-premise technologies in favour of private and public cloud-enabling kit.
As such, IDC forecasts enterprises will shell out $12.1bn on private cloud infrastructures, equating to a year-on-year rise of 15.8%, and $20.5bn on public cloud technologies, which is 29.6% more than in 2015.
Spending on cloud IT infrastructure is expected to grow across all regions in 2015, with the exception of central and eastern Europe because of the current political and economic instability affecting these areas.
According to IDC's five-year forecast, cloud infrastructure IT spending is set to grow at a compound annual growth rate (CAGR) of 15.1% and will hit $53.1bn by 2019. By this time, it will also account for nearly half of all enterprise IT spend.
Natalya Yezhkova, research director for storage systems at IDC, said its research suggests enterprise interest in cloud is continuing to grow at a steady pace.
"Numerous IDC surveys indicate growing interest among enterprise customers to cloud deployments across multiple IT domains," she said.
"Users often cite the agility of IT infrastructure and economic reasons as drivers for cloud adoption, but we also expect the proliferation of next generation applications born and run in the cloud will fuel its further growth."
Read more about cloud infrastructure spending trends
Read more on Infrastructure-as-a-Service (IaaS)