Most CIOs are not yet allowing employees to access company networks using personal computing devices, a US national survey has revealed.
Only a third of 1,400 CIOs polled by IT staffing services firm Robert Half Technology said they support bring-your-own device (BYOD) schemes, according to US reports.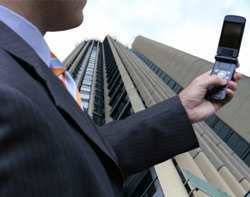 Among the CIOs whose firms do allow workers to access the company network using their own devices, 66% said their firms offer limited technical support to these individuals, while 6% offer no support. Just 28% offer full support.
"Companies are balancing the desire to provide flexibility to employees with potential security risks, as well as logistical issues such as providing support for non-standard devices," said John Reed, senior executive director of Robert Half Technology.
Growing demand for BYOD
Although most CIOs surveyed do not allow employees to use their personal devices to access company networks, Reed said this may soon change, particularly with the rise in telecommuting and remote working arrangements.
Companies are balancing the desire to provide flexibility to employees with potential security risks

John Reed, senior executive director, Robert Half Technology
"Professionals increasingly want to stay connected while using their device of choice for both work and personal communication," he said.
According to Reed, a growing number of companies are recognising this demand and looking for ways to do it securely.
However, a recent survey by Juniper Networks revealed that IT managers in the UK are in "true denial" of the reality of BYOD.
While 65% of IT managers in the UK said their employees were not using unsupported devices, 40% of users admitted accessing corporate data using personal smartphones and tablets.
Just 20% of UK respondents said they had a "great deal of confidence" in the security of their mobile devices, which leaves 80% unsure or not trusting them at all.
At the report launch, presenters agreed that education was the only way to solve the problems that come with BYOD.
Benefits of BYOD
However, some IT heads see BYOD as an opportunity rather than a challenge. "It means that you can finally have happy users," said Vlatka Toukalek, head of IT infrastructure and support services at the Geneva-based World Meteorological Organisation (WMO).
She also believes supporting a BYOD scheme is relatively simple. The key is to build a really good sandbox, she said. This means ensuring that all connections to corporate systems are through a virtual private network (VPN) and virtual desktop environment.
The WMO has enabled SSL-based VPN connections to web-based systems for the past three years, adding access to legacy systems through virtual desktops on mobile devices in the past year.
Toukalek believes that if users own the devices, they are more likely to be aware of the risks and be more cautious in their behaviour. She pointed out that suppliers are providing a growing number of tools, such as Cisco's Identity Services Engine (ISE), to remove barriers and give organisations the control they need to keep corporate data and activities separate from personal data and use of mobile devices.
Finally, she said, it is important for businesses to have policies in place to ensure they have a way of dealing with things if they go wrong.
Email Alerts
Register now to receive ComputerWeekly.com IT-related news, guides and more, delivered to your inbox.
By submitting your personal information, you agree to receive emails regarding relevant products and special offers from TechTarget and its partners. You also agree that your personal information may be transferred and processed in the United States, and that you have read and agree to the
Terms of Use
and the
Privacy Policy
.