IBM and HP compete on datacentre power consumption
Recent datacentre product announcements from IBM and HP show that energy...
Recent datacentre product announcements from IBM and HP show that energy consumption in the datacentre is now attracting high-level attention at both enterprises and IT suppliers, analyst Ovum has said.

Download this free guide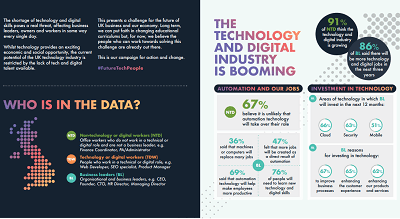 Infographic: Future-proofing UK technology
The current potential of the UK technology industry is restricted by the lack of tech and digital talent available. Read through this challenge for the future of UK business and our economy.
By submitting your personal information, you agree that TechTarget and its partners may contact you regarding relevant content, products and special offers.
You also agree that your personal information may be transferred and processed in the United States, and that you have read and agree to the Terms of Use and the Privacy Policy.
IBM has announced enterprise additions to its Project Big Green last week, which saw the introduction of modular datacentres that are designed to save energy.
This came after HP announced its Sustainability Laboratory to address long-term datacentre issues. Ovum said that both offerings introduce an immediate opportunity for savings in energy use, accompanied by a strong financial investment case through monitoring and intelligent control systems.
IBM talks of the payback period from investments in this area being less than two years. And both back their claims with case studies, "although at this early stage these are thin on the ground at present", said Ovum.
"The environmental payback period may be longer where this involves hardware replacement," it said.
Graham Titterington, an analyst at Ovum, said, "The demands on information processing systems are growing exponentially. IBM expects server usage to grow six-fold and the volume of stored data to grow 70-fold over the decade, and these figures are consistent with Ovum's own research."
"Technology is delivering efficiency improvements, but these tend to be linear in nature. Consequently energy use by datacentres is still rising rapidly. In the longer term we need changes in business processes, data retention practice and law, and a change in expectations," he said.
Firms need to question how much processing they do, how much data they hold, and for how long, he said. The present tendency to hold everything that it is technologically possible to hold will have to be challenged, said Titterington.
Systems are needed that can store a single copy of a document and not replicate it multiple times across an organisation, without this causing problems for users, he said.
HP is developing optical computing in the datacentre as a major plank to its long-term objective of cutting datacentre energy use by 75%.
HP also claims it has achieved a 40% energy saving at a new datacentre it has recently built in Bangalore by deploying its "smart cooling" technology.
And IBM claims similar savings by deploying upgraded Tivoli monitoring software to measure power usage.
Both firms are also promoting server virtualisation as a way to cut energy bills.