Council leaders have today published a list of 200 words and phrases that public bodies should not use if they want to communicate with local people.
Many of the terms are used regularly in the IT industry - in speeches, publications and the business media - such as gateway review, synergy, stakeholder engagement, baseline, benchmarking, best practice, blue-sky thinking, champion, challenge, early win, functionality, transformational and vision.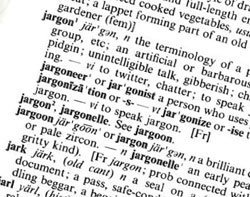 The list's worst offenders against plain English include Predictors of Beaconicity, situational, place shaping and coterminosity.
The Local Government Association has drawn up the list of words that ought to be banned, and is sending it to councils across the country.
Among the 200 words are re-baselining, mainstreaming, holistic governance, contestability and synergies.
The association says that everyone who works in public services should use language that makes their work easily understood.
Chairman of the Local Government Association, Margaret Eaton, said, "The public sector must not hide behind impenetrable jargon and phrases. Why do we have to use 'coterminous, stakeholder engagement' when we could just 'talk to people' instead?
"During the recession, it is vital that we explain to people in plain English how to access the 800 different services that local government provides with taxpayers' money.
"Councils have a duty, not only to provide value for money to local people, but also to tell people what they get for the tax they pay.
"Unless information is given to people to explain what help they can get during a recession,more people could end up homeless or bankrupt. If a council fails to explain what it does in plain English, then local people will fail to understand its relevance to them or why they should bother to turn out and vote.
Click here for the list of banned words and their alternatives
Email Alerts
Register now to receive ComputerWeekly.com IT-related news, guides and more, delivered to your inbox.
By submitting your personal information, you agree to receive emails regarding relevant products and special offers from TechTarget and its partners. You also agree that your personal information may be transferred and processed in the United States, and that you have read and agree to the
Terms of Use
and the
Privacy Policy
.