Spam still costing thousands, McAfee report says
Spam is still costing big business...
Spam is still costing big business thousands of pounds a year in lost productivity, according to McAfee's March 2009 spam report.
Most organisations have become numbed to the problem and assume spam filtering systems with 95% accuracy are good enough.
Such systems typically miss two spam messages a day, costing each employee one minute in lost productivity, the report said.
The report says this would mean an annual loss of $182,500 (£130,000) a year for a company with 1,000 employees.
This calculation is based on a 365-day year and an hourly wage of $30 an hour, but the figure is still $126,000 (£90,000) with a more realistic 252-day working year.

Download this free guide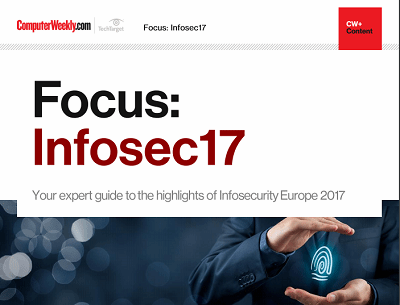 From forensic cyber to encryption: InfoSec17
Security technologist Bruce Schneier's insights and warnings around the regulation of IoT security and forensic cyber psychologist Mary Aiken's comments around the tensions between encryption and state security were the top highlights of the keynote presentations at Infosecurity Europe 2017 in London.
By submitting your personal information, you agree that TechTarget and its partners may contact you regarding relevant content, products and special offers.
You also agree that your personal information may be transferred and processed in the United States, and that you have read and agree to the Terms of Use and the Privacy Policy.
Organisations could save thousands a year by upgrading to the best available spam filtering systems that offer 99.5% accuracy, the report said.
Companies tend to implement spam filtering systems and move on to the next thing without review, said Mike Smart, EMEA product marketing manager at McAfee.
"Many do not realise that spam is not decreasing and there is still a cost attached in lost productivity and storage," he said.
All messages that are not blocked by spam filters are typically stored by companies, and that soon eats up storage space at 20 kilobytes per message, said Smart.
McAfee predicts a 20% increase in spam messages in March based on historical evidence of an average increase of 10% to 15% this time each year.
Another 5% is expected because of the rapid increase in spam since law enforcement agencies shut down the US-based McColo hosting site in November 2008.
McColo was responsible for sending out most of the spam on the internet, but spam levels had largely recovered two months later.
"The slack was taken up really quickly and we expect an even larger growth for March than usual," said Smart.