Japanese cybercrime stats are a red flag for West
Japan's cybercrime cases jumped by 15.5% to a record 6,321 in 2008, the country's National Police Agency...
Japan's cybercrime cases jumped by 15.5% to a record 6,321 in 2008, the country's National Police Agency (NPA) said yesterday.
This was treble the number of cybercrimes of 2004, and included internet-related cases of threat, libel, illegal access and fraud, an NPA survey found.

Download this free guide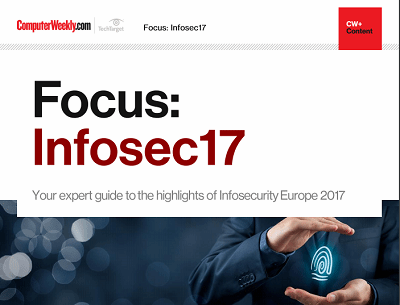 From forensic cyber to encryption: InfoSec17
Security technologist Bruce Schneier's insights and warnings around the regulation of IoT security and forensic cyber psychologist Mary Aiken's comments around the tensions between encryption and state security were the top highlights of the keynote presentations at Infosecurity Europe 2017 in London.
By submitting your personal information, you agree that TechTarget and its partners may contact you regarding relevant content, products and special offers.
You also agree that your personal information may be transferred and processed in the United States, and that you have read and agree to the Terms of Use and the Privacy Policy.
While cases of threats and illegal access jumped 90% and 20% respectively to 112 and 1,740, those of libel and fraud slid 23% and 0.3% to 61 and 1,508 respectively, the survey said.
Commenting on the survey, Finjan, a web gateway security vendor, said the results did not bode well for e-crime in the West.
Finjan's CTO Yuval Ben-Itzhak said, "Anecdotal evidence suggests that the volume and value of cybercrime in the West has soared again in 2008, and with the current economic recession, we expect the number of internet scams, hacks and malware-driven infections to accelerate in 2009."
Ben-Itzhak said hackers were attacking popular websites to distribute malware. He said the Japlog.jp website, rated 41 in Japan and 382 worldwide by Alexa, and Livedoor.jp, which was rated 6 in Japan and 70 worldwide by Alexa, were hacked within days of each other. "Using a combination of obfuscated and ActiveX code, they infected visitors with malware," he said.
"Website owners and consumers need to take extreme care to protect themselves, their staff, customer lists and financial data against cybercriminals," Ben-Itzhak added.
He said it was hard to extrapolate Japanese figures because there is no Western equivalent collection of cybercrime data. "But because the Japanese generally have a high degree of personal morality, the increase in cybercrime raised a warning flag for the West," he said.
Read more on IT risk management