US privacy groups unhappy with new online ad rules
New government guidelines for targeted web advertising based on users' activities do not...
New government guidelines for targeted web advertising based on users' activities do not go far enough to protect privacy, US privacy groups say.

Download this free guide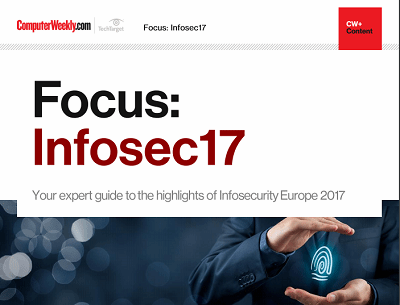 From forensic cyber to encryption: InfoSec17
Security technologist Bruce Schneier's insights and warnings around the regulation of IoT security and forensic cyber psychologist Mary Aiken's comments around the tensions between encryption and state security were the top highlights of the keynote presentations at Infosecurity Europe 2017 in London.
By submitting your personal information, you agree that TechTarget and its partners may contact you regarding relevant content, products and special offers.
You also agree that your personal information may be transferred and processed in the United States, and that you have read and agree to the Terms of Use and the Privacy Policy.
The World Privacy Forum has accused the Federal Trade Commission (FTC) of ignoring requests to keep genetic and other highly sensitive information private, according to US media reports.
The Center for Digital Democracy said the FTC had failed to recognise that a vast commercial surveillance system is at the core of most search engines.
The new guidelines were drawn up to incorporate public comment on a set of principles published in 2007.
But the revised guidelines do not require Google or Yahoo to make any changes to their controversial behavioural targeting advertising systems.
The guidelines require websites to disclose the data they are collecting and allow users to opt out, provide reasonable security, keep promises on data handling, and obtain consent for sensitive data.
Privacy groups say that it is difficult for web users to keep track of the hundreds of sites collecting personal information so they can opt out of all these schemes.
In January, the Internet Advertising Bureau announced it was co-ordinating the proposals to allow online organisations to self-regulate on behaviour tracking.
Firms in the discussion include Google, Yahoo, BT's Revenue Science, Phorm, BBC and Reuters.
BT was accused of invading people's privacy when it conducted secret trials on an ad-serving technology from Phorm in 2006 and 2007.
Many privacy groups, including the UK's Information Commissioner's Office, want all behavioural advertising to be by choice and not automatic, but advertisers fear this could destroy their business model.
Read more on IT risk management