A three-year computer simulation project that lets designers, engineers and shop-floor staff work in parallel to create and build production lines is about to pay off at Bombardier, the Belfast-based aerospace manufacturer of Lear jets.
The company has started commercial production of aircraft outboard flaps and ailerons using a production system that was designed, built and proven in the computer.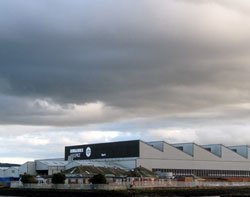 The company used Dassault Systemes' Catia computer aided design software and Delmia lean manufacturing process simulation tools.
The result has been a quicker start-up, fewer test runs to reach acceptable quality standards, and less money tied up for less time, said Brian Welch, Bombardier's manufacturing engineering manager, and one of the four-man team responsible for the project.
"We now have a proven tool that we will use on all future projects," Welch told Computer Weekly.
Welch cited competitive interest in declining to give more explicit figures. "I can say that the project was cash-positive," he said, meaning the firm saved more than it would have spent doing things the old way.
The old way involved rekeying the much of the data about an aircraft component at least three times - firstly into the CAD system, then into the engineering system, and finally into the manufacturing system. This was because each system used a slightly different naming convention when referring to a part. This led inevitably to errors and made it hard to reconcile actual production results with what the computer said.
Iain Crosbie, senior project manager, said the project provides a single complete description or data model of all the material properties, design rules, engineering parameters and manufacturing instructions required to build a part.
Bombardier can tell very quickly whether it can in fact build and/or assemble a part before it builds the factory or production line to make it. This also allows the teams to experiment with different layouts and material flows to optimise production for both time and money.
"The contribution of the guys on the shop floor has been as important as the software, because they know from experience what they can make and how to assemble it," said Welch.
Crosbie and Welch said this project was one of several "digital factory" research projects at Bombardier. The next step will be to evaluate the results and decide a standard approach to the use of data modelling and simulation in the firm.
How it was done
Four Bombardier engineers took a bold step into the future factory with its implementation of Dassault Systemes' Delmia manufacturing modelling software.
Eschewing consultants, the team took the CDs, installed the software and started building the digital model of its factory and constituent components, like machine tools.
"We had some sleepless nights, but it was high risk, high return," said Iain Crosbie, senior project manager.
Similar large computer projects usually have the customer specifying the system, giving the spec to developers, the developers producing the system, and the users finding that things don't work quite as intended, which leads back to the drawing board.
By doing it all in-house, with direct access to users as they developed elements of the system, Bombardier was able to slash the development time by months as well as build up its own expertise, he said.
Email Alerts
Register now to receive ComputerWeekly.com IT-related news, guides and more, delivered to your inbox.
By submitting you agree to receive email from TechTarget and its partners. If you reside outside of the United States, you consent to having your personal data transferred to and processed in the United States.
Privacy