Police could get powers to seize and search laptops and iPods for illegal downloads
The UK is negotiating an international legal framework for protecting...
The UK is negotiating an international legal framework for protecting intellectual property that will criminalise copyright infringement and the use of peer-to-peer file sharing for copyright material.

Download this free guide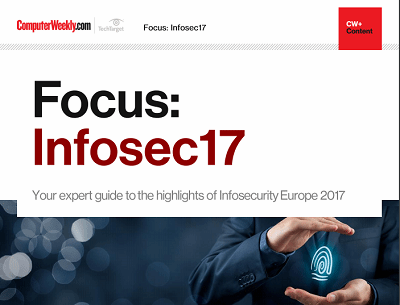 From forensic cyber to encryption: InfoSec17
Security technologist Bruce Schneier's insights and warnings around the regulation of IoT security and forensic cyber psychologist Mary Aiken's comments around the tensions between encryption and state security were the top highlights of the keynote presentations at Infosecurity Europe 2017 in London.
By submitting your personal information, you agree that TechTarget and its partners may contact you regarding relevant content, products and special offers.
You also agree that your personal information may be transferred and processed in the United States, and that you have read and agree to the Terms of Use and the Privacy Policy.
If agreed and implemented, the framework will give law enforcement officials new powers to enter and search premises and to confiscate goods that infringe copyright.
Critics believe this could extend officials' powers, enabling them to seize and search laptops and iPods for illegal downloads.
A UK delegation led by officials from the UK Intellectual Property Office met EU colleagues today in Brussels to discuss the proposed frameworkd, dubbed the Anti-Counterfeiting Trade Agreement (ACTA).
The Anti-Counterfeiting Trade Agreement is aimed at fighting a £100bn global trade in fake and stolen goods by creating a uniform glonal legal system to enforce intellectual property rights.
The G8 meeting in Hokkaido today endorsed the negotiations. "We encourage the acceleration of negotiations to establish ACTA, and seek to complete the negotiation by the end of this year," it said.
The G8 intellectual property experts group said global trade in counterfeit goods measured by the OECD in 2005 was worth some £100bn. This excluded the value of counterfeit and pirated goods produced and distributed domestically, according to a report presented today (8 July).
"The group takes note with deep concern that global trade in counterfeit and pirated goods continues to persist," it said. It noted the emergence of organised criminal networks in counterfeiting and piracy.
It proposed a range of measures for members and other countries to follow to create a uniform global legal regime to protect intellectual property.
Discussions prior to the G8 meeting have not been made public, but a document titled "Discussion paper on a Possible Anti-Counterfeiting Trade Agreement" was leaked to whistleblowers' website Wikileaks on 23 May. It appears to embody many of the topics considered by the G8 experts.
It called for criminal sanctions for IP infringements for commercial advantage or private financial gain. People who breach copyright without any intention of private gain but who "prejudicially affects the copyright owner (eg internet piracy)" could also face criminal sanctions.
It called for authorities to be able to act without a complaint from the copyright holder, and for officials to be allowed to seize and destroy infringing goods. It further proposed "measures to ensure that goods are not released into channels of commerce without right holder permission in cases where the goods have been determined by the competent authorities to be infringing intellectual property rights."
It specifically called for "measure to address large-scale illegal optical disc (OD) production for countries that have large-scale illegal OD production."
The leaked document proposed giving internet service providers a "safe harbour". This would protect ISPs from liability to encourage them to cooperate with right holders in removing infringing material.
But it also proposed enabling "right holders who have given effective notification of a claimed infringement to expeditiously obtain information identifying the alleged infringer".
It also called for remedies to stop people who get around the protection mechanisms used by copyright holders or who trade in protection-busting tools.
No statement was issued, but a G8 spokesman said negotiations would continue.
Read more on IT risk management