Technology struggles to improve customer service levels
New technologies such as automated phones services and online chat are failing to improve businesses' customer service, management consultancy Accenture has warned.
New technologies such as automated phones services and online chat are failing to improve businesses' customer service, management consultancy Accenture has warned.

Download this free guide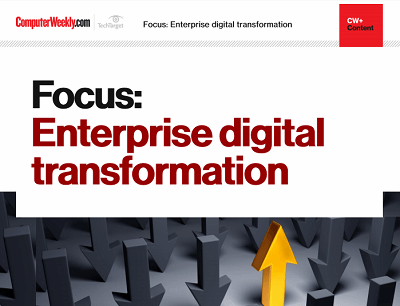 Are you digital to the transformation?
Digital transformation - the buzzword that we can't get away from. Enterprises need to accelerate their digital transformation journeys to avoid being left behind in an increasingly digital world. It's not an easy feat, but one that can be costly to get wrong. Join us as Computer Weekly takes a look at how businesses can stay on track through collaboration, innovation, and listening to user needs.
By submitting your personal information, you agree that TechTarget and its partners may contact you regarding relevant content, products and special offers.
You also agree that your personal information may be transferred and processed in the United States, and that you have read and agree to the Terms of Use and the Privacy Policy.
An Accenture survey of more than 1,000 UK consumers found that nearly two-thirds said the new technologies had done little to improve service levels, while poor customer service had prompted 58% to switch at least one service provider over the past year.
But the research, which covered customer experiences across a spread of industries, found sharply different levels of satisfaction for different types of technology.
Satisfaction was lowest for automated phone services, with just 10% of the those surveyed saying they were satisfied or very satisfied with the self-service phone systems.
But e-mail services scored much more highly, with 47% of respondents saying they were satisfied or very satisfied – the second best response after satisfaction with person-to-person services, which were considered satisfactory or very satisfactory by 59%.
E-mail was rated more highly than live telephone services (42%) and far better than online chat (28%).

Neil Miller, Accenture's UK head of customer relationship management, said businesses should "think how to use the technology to be a high-performing business".
"The trick is to understand the different expectations of different customer segments – their needs, wants, desires and preferred interaction methods – and try and tailor the technology to them.
"Businesses should ask how can we differentiate and make relevant to each customer the technology we offer them. Don't jump to buy everything going, because you might not need to."
The organisation's customer strategy should "drive the technology", not the other way around, he stressed.
Miller added that the high ratings achieved by e-mail services was an interesting finding from the research. "It does reflect the pervasiveness of the web and e-mail that has migrated into an acceptable form of customer interaction."
Businesses should look at offering customers opportunities to both send and receive e-mails as a "key part of what they do", he said.
Miller pointed out that although online chat had not scored highly, its rating reflected increasing familiarity with the technology among consumers. "Two years ago, it would have been: 'what's online chat?'" he said.
Vote for your IT greats
Who have been the most influential people in IT in the past 40 years? The greatest organisations? The best hardware and software technologies? As part of Computer Weekly's 40th anniversary celebrations, we are asking our readers who and what has really made a difference?
Vote now at: www.computerweekly.com/ITgreats

Read more on Operating systems software