Downtime: Make room for me at Heartbreak Hotel
IT security specialists are warning that, with many millions of e-cards expected to be sent today in the name of love, it is a prime time for hackers.
Make room for me at Heartbreak Hotel
IT security specialists are warning that, with many millions of e-cards expected to be sent today in the name of love, it is a prime time for hackers.

Download this free guide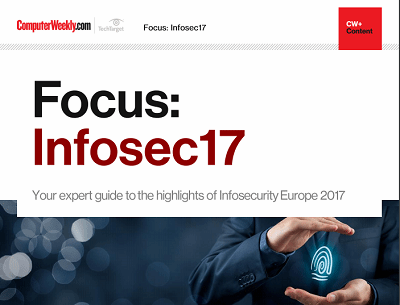 From forensic cyber to encryption: InfoSec17
Security technologist Bruce Schneier's insights and warnings around the regulation of IoT security and forensic cyber psychologist Mary Aiken's comments around the tensions between encryption and state security were the top highlights of the keynote presentations at Infosecurity Europe 2017 in London.
By submitting your personal information, you agree that TechTarget and its partners may contact you regarding relevant content, products and special offers.
You also agree that your personal information may be transferred and processed in the United States, and that you have read and agree to the Terms of Use and the Privacy Policy.
For the more steely-hearted e-mail system administrators, one option is to block any potentially harmful traffic, which could lead to broken hearts as romantic missives languish unread in cyberspace.
I'm not in love with the IT sitcom after all
The long-awaited broadcast of episodes one and two of The IT Crowd was rather marred by the Channel 4 announcer insisting on calling the show The It Crowd - some people, eh? And on second viewing the jokes seemed a bit lame, too. (Downtime is nothing if not fickle.) What do you think?
The meaning of life can be found hidden online
If The IT Crowd isn't doing it for you, maybe you should spend your spare time reading techie thriller The Manuscript by Michael Stephen Fuchs (there's a name that might prove tricky to drop in polite company).
The Manuscript tells the story of a mixed bag of existentially afflicted computer professionals who become convinced that the meaning of life is really hidden on a "diabolically encrypted website out in the far uncharted backwaters of the internet". Or so says the blurb. Downtime can't claim to have read this one.
The author, however, clearly has high philosophical ambitions. "Why do certain questions echo answerless through the ages?" asks Fuchs in the pre-publication literature. "What is the true nature of human consciousness - does it come from a soul or simply a very complex brain? Which is true of our fate - free will or determinism?" And so on. All questions that are well beyond the remit of Downtime.
Fart joke, anyone?
Who knows wine like an electronic nose?
Speaking of which, Downtime noted recently that boffins at the University of Manchester had developed a device to monitor pongs escaping from landfill sites.
Hot on its heels, here is an altogether more refined smelling device, designed to tell the hoi polloi whether or not a bottle of wine is off.
Researchers at the University of California in Berkley say that they will soon be able to offer us this electronic "nose" for just a few pence. Which could save you embarrassment when you inadvently give the thumbs up to a cheeky little number in a posh restaurant and your blind date proceeds to tell you it is badly corked and completely undrinkable.
And finally, find your invisible friend here
Instant messagers who don't have anyone to chat with online can talk to a virtual alternative at MSN Messenger.
Spleak is described as a 20-year-old virtual girl, "born in France and now living in New York", who is available 24 hours a day to chat with users of MSN Messenger. But human she ain't.
Instead, "She is always ready to cheer you up, play a game, read your horoscope, and deliver the news and weather forecasts." Her knowedge is also described as "close to unlimited".
By contrast, Downtime can only boast unlimited opinions. Here's one: Spleak is a seriously bad idea.
Read more on IT risk management