Panasonic adds smartcard function to SD memory
Matsushita Electric Industrial, which owns the Panasonic brand, will start selling secure digital (SD) memory cards to be used in...
Matsushita Electric Industrial, which owns the Panasonic brand, will start selling secure digital (SD) memory cards to be used in smartcards in Japan by the end of 2005.

Download this free guide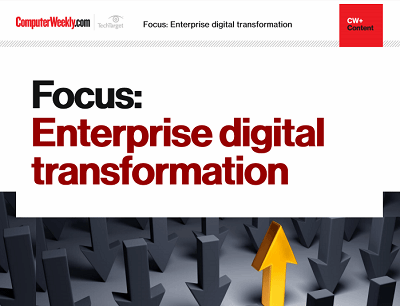 Are you digital to the transformation?
Digital transformation - the buzzword that we can't get away from. Enterprises need to accelerate their digital transformation journeys to avoid being left behind in an increasingly digital world. It's not an easy feat, but one that can be costly to get wrong. Join us as Computer Weekly takes a look at how businesses can stay on track through collaboration, innovation, and listening to user needs.
By submitting your personal information, you agree that TechTarget and its partners may contact you regarding relevant content, products and special offers.
You also agree that your personal information may be transferred and processed in the United States, and that you have read and agree to the Terms of Use and the Privacy Policy.
The move is an effort to promote the widely-used SD format as a platform for noncontact smartcards that can also be used to store large amounts of data. The new card, which is called the Smart SD, will be available in sample quantities in December 2004, Masaki Akiyama, director of Matsushita, said.
The goal is to produce a portable storage device that can also be used as a smartcard. The cards contain two sets of memory. One set stores personal and encrypted information that can be transmitted wirelessly and used for personal identification and security purposes. The other set is flash memory like that in conventional memory cards.
"The Smart SD Card has two key advantages over other smartcards: It will be able to contain a large amount of memory, and it's removable," said Go Nakano, general manager of Matsushita's network service systems group.
Matsushita is developing a Smart SD Card that has a built-in antenna. The company is also developing a version based on the Mini SD Card that requires an external antenna. The company has developed 32Mbyte, 64Mbyte and 128Mbyte capacity cards.
The cards conform to the GlobalPlatform international smartcard standard, and the Java Card standard.
The new smartcards use ferroelectric memory (FeRam), which has a number of technical advantages over the EEProm (Electrically Erasable and Programmable Rom) that is widely used in smartcards, according to Matsushita.
Data can be written to FeRam faster and at a lower voltage than to EEPRom, and FeRam can be rewritten many more times, the company said.
Matsushita hopes the success of the SD memory card will help the new format to become a de facto standard for removable contactless smartcards, Akiyama said. Since the introduction of the SD Card in 2000, about 220 companies have announced over 2,600 products compatible with SD memory cards, according to Matsushita.
Nakano said the new cards will be compatible with SD memory card slots. The flash memory data rate will be a maximum of 20mbps.
Paul Kallender writes for IDG News Service