Integration champion enters open-source lists
A new start-up offering certification, testing and distribution of existing open-source software could become the Dell of the...
A new start-up offering certification, testing and distribution of existing open-source software could become the Dell of the software industry.
"We promise not to lock you in, ever," declares SourceLabs at its website. "We compete and thrive by providing excellent service, not because of our ability to tie your applications to technology we control."

Download this free guide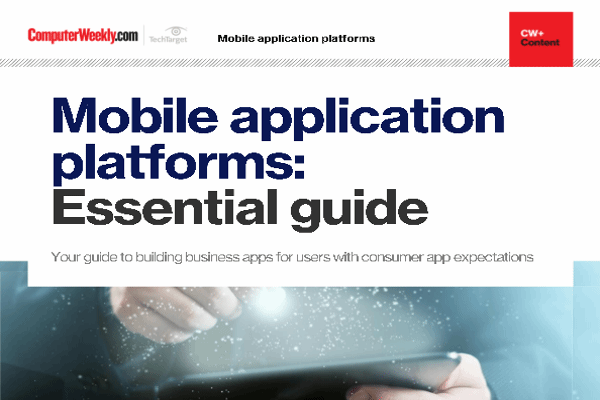 Building business apps for users with consumer app expectations
One of the mantras of modern enterprise application development is that business applications should be as easy to use as mass market consumer applications. In this guide, Computer Weekly examines the issues around mobile applications and the platforms emerging to help developers.
By submitting your personal information, you agree that TechTarget and its partners may contact you regarding relevant content, products and special offers.
You also agree that your personal information may be transferred and processed in the United States, and that you have read and agree to the Terms of Use and the Privacy Policy.
Former BEA executive Byron Sebastian set up SourceLabs to provide dependable open-source systems. "We think we have a great opportunity to build a strong business, help change the world, and have fun doing it."
Joining him in doing are two other ex-BEA big wigs, Cornelius Willis and Will Pugh.
But IT commentator David Berlind said that, since SourceLabs had no open-source software of its own, it would find it hard to differentiate itself from bigger companies.
"It's easy to imagine a one-stop shop for open-source software components," he said. "It's easy to imagine because that's what many other companies, including the likes of IBM, Sun, Red Hat, Novell and others, will end up doing. Who knows - even Dell might take a crack at building integrating and testing open-source components to expand its services business."
In other words, out-Delling Dell could prove difficult.
But Rich Freyberg, former chief information officer at Charles Schwab, was more bullish. "SourceLabs is providing what enterprise customers have been waiting for: someone to stand behind integrated open-source systems. Customers really do want just 'one throat to choke' and SourceLabs is the first company to provide this."
As ever, the marketplace will decide whether SourceLabs' technology-agnostic approach can successfully deliver dependable, open-source systems to customers in a way that no one else can. If it can't, then the trio may want to go back to the world of proprietary software the came from. Time, and the viability of the newly named "dependable open source" market, will tell.
Written by LinuxWorld staff
Read more on Business applications