NHS licenses Sun's Java Desktop System
The National Health Service (NHS) has purchased 5,000 licenses for Sun Microsystems Java Desktop System (JDS) as an alternative...
The National Health Service (NHS) has purchased 5,000 licenses for Sun Microsystems Java Desktop System (JDS) as an alternative to Windows, in a move that could potentially open the door for greater use of the open-source software by the health department.

Download this free guide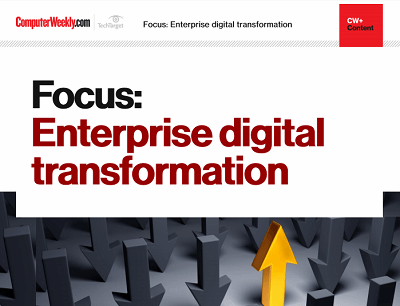 Are you digital to the transformation?
Digital transformation - the buzzword that we can't get away from. Enterprises need to accelerate their digital transformation journeys to avoid being left behind in an increasingly digital world. It's not an easy feat, but one that can be costly to get wrong. Join us as Computer Weekly takes a look at how businesses can stay on track through collaboration, innovation, and listening to user needs.
By submitting your personal information, you agree that TechTarget and its partners may contact you regarding relevant content, products and special offers.
You also agree that your personal information may be transferred and processed in the United States, and that you have read and agree to the Terms of Use and the Privacy Policy.
The NHS is implementing a £5bn programme to upgrade its ailing IT infrastructure. It began evaluating the potential use of Sun's open-source desktop system in December last year.
JDS includes the company's StarOffice productivity suite, a Gnome desktop and the Mozilla web browser which Sun has touted as a comprehensive open-source alternative to Microsoft Windows.
The NHS' National Programme for IT confirmed this week that it had licensed JDS for "tactical deployments" within the health care service, adding that it deemed JDS a viable desktop alternative for certain types of user communities.
An NHS representative could not elaborate on exactly where in the agency's sprawling system, incorporating tens of thousands of users, the software would be deployed.
A Sun representative said that details of the deployment were still being discussed. Financial details of the deal were not disclosed.
The JDS adoption comes while the NHS awaits approval from the UK's treasury department on a recent agreement to license Microsoft's desktop software. Details of that agreement have not been released. Microsoft is deeply involved in the national programme through its health partner in the UK, iSoft.
National programme chief technology officer Duncan McNeil has waxed positive on the merits of open source. McNeil said he continues to view the use of open-source software and open systems architecture as "a key way of achieving best value and systems interoperability in the future".
Sun's Java System is already being used as the enterprise infrastructure software supporting the NHS' Care Records Service.
Scarlet Pruitt writes for IDG News Service
Read more on Operating systems software