Suppliers' 802.11n proposals could bring faster access and lower costs
Another fast wireless standard is emerging from the alphabet soup of 802.11 protocols, this time promising to boost data...

Download this free guide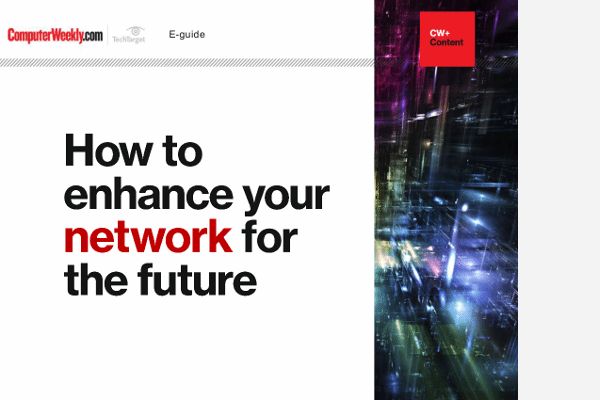 How to enhance your network for the future
Latest on networking developments and directions: NFV, self-optimising networks and IoT enabled smart cities
By submitting your email address, you agree to receive emails regarding relevant topic offers from TechTarget and its partners. You can withdraw your consent at any time. Contact TechTarget at 275 Grove Street, Newton, MA.
You also agree that your personal information may be transferred and processed in the United States, and that you have read and agree to the Terms of Use and the Privacy Policy.

Another fast wireless standard is emerging from the alphabet soup of 802.11 protocols, this time promising to boost data throughput to speeds of between 100mbps and 540mbps.

Two groups of networking suppliers put in rival 802.11n proposals to standards body the IEEE this month. But the standard is not due to be ratified until late 2006 or early 2007.

802.11n would offer a significant increase over current actual wireless speeds of 30mbps, and would pave the way for faster business and consumer wireless applications and services.

The US consumer market is the main driver behind the new fast wireless technology, with users demanding applications such as wireless video transfer in the home. However, the technology also promises to bring faster wireless business applications, fast mobile web access, voice over IP and faster data-heavy communications services.

Despite 802.11n not due to be ratified for some time, cards are already being produced by Airgo Networks and will start to ship in October.

Airgo is part of the WWise Consortium, which has submitted an 802.11n proposal. The group also includes Conexant, Texas Instruments and Broadcom. WWise has suggested a royalty-free licensing model, the lower costs of which would be passed on to developers, manufacturers and end-users, it said.

Intel, Atheros and Philips are among suppliers in the rival TgnSync group. James Wilson, technical marketing engineer at Intel, said, "Intel expects the 802.11n wireless Lan technology will support consumer electronics, personal computing and handheld communications platforms throughout all major enterprise, home and public hotspot environments."

Wilson added that 802.11n would provide a minimum throughput of 100mbps. "This represents an approximate 4x leap in WLan throughput performance compared to today's 802.11a/g networks," he said.
Read more on Wireless networking