Blue Coat unveils proxy anti-virus app
A security appliance from Blue Coat Systems allows companies to scan web traffic to their network at high speed, spotting viruses...
A security appliance from Blue Coat Systems allows companies to scan web traffic to their network at high speed, spotting viruses and malicious file downloads from web pages or web-based e-mail at the network perimeter.

Download this free guide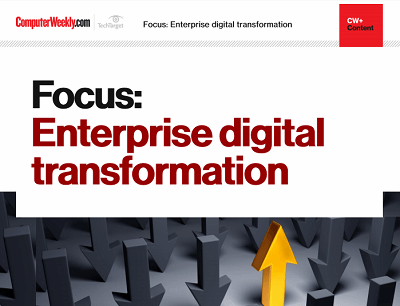 Are you digital to the transformation?
Digital transformation - the buzzword that we can't get away from. Enterprises need to accelerate their digital transformation journeys to avoid being left behind in an increasingly digital world. It's not an easy feat, but one that can be costly to get wrong. Join us as Computer Weekly takes a look at how businesses can stay on track through collaboration, innovation, and listening to user needs.
By submitting your personal information, you agree that TechTarget and its partners may contact you regarding relevant content, products and special offers.
You also agree that your personal information may be transferred and processed in the United States, and that you have read and agree to the Terms of Use and the Privacy Policy.
The Blue Coat ProxyAV is an appliance which scans traffic to web browsers for Trojan horse programs, internet worms and malicious content buried in HTTP traffic.
By joining anti-virus detection to Blue Coat's proprietary operating system and dedicated hardware platform, the ProxyAV is designed to make anti-virus scanning of web traffic feasible for large networks and give executives the ability to see how employees are using the internet, said Steve Mullaney, vice-president of marketing at Blue Coat.
ProxyAV works together with Blue Coat's ProxySG series appliances. Inbound web traffic is scanned first by the ProxySG to determine whether it contains content that needs to be scanned.
Web objects that meet the ProxySG's criteria are sent to the ProxyAV appliance, which scans them for viruses. Objects that are found to contain viruses are discarded. Objects that pass the scan are returned to the ProxySG appliance and cached for future reference.
The appliance is available in two models, a 400 and 2000 series, and works with anti-virus engines from Sophos, Network Associates ' McAfee anti-virus unit, Trend Micro and Panda Software.
The 400 series comes in two models: the 400-E0, which features an 850MHz Intel Celeron processor and 512Mbytes of Ram, and the 400-E1, which comes with a 1.26GHz Intel Pentium III processor.
The 2000 series ranges from the 2000-EO, which features a 2GHz Intel Xeon processor and 768Mbytes of Ram, to the 2000-E3, which features two 2.4GHz Xeons and 3Gbytes of Ram.
The appliances can process up to 249mbps of throughput with just four milliseconds of latency, on average, for web traffic.
The Blue Coat Proxy AV is available immediately. Prices range from $4,500 (£2,475) to $21,000 for higher-end devices.
Paul Roberts writes for IDG News Service