Beware mega deals, says consultant
IT outsourcing "mega deals" with a single supplier are flawed and companies should look to sign contracts with a range of...
IT outsourcing "mega deals" with a single supplier are flawed and companies should look to sign contracts with a range of suppliers to minimise the damage if a deal goes wrong, according to Robert Fawthrop, former managing director of LogicaCMG's global outsourcing business.

"I think the days of the multi-billion-pound outsourcing deals ought to be numbered," said Fawthrop, who last week took over as chief executive of outsourcing consultancy Morgan Chambers. "It is a slightly flawed model. You are putting all your eggs in one basket and you are not allowing your in-house IT people to do what they do best."

Fawthrop said that although deals with multiple suppliers were harder to manage they delivered better value for money.

He added that a growing number of companies would outsource back-office processes and technology to shared service centres if the outsourced technology was not used to give the organisation a competitive advantage.

This has proved popular with banks and suppliers who have created joint venture companies to process cheques and other administrative functions.

Download this free guide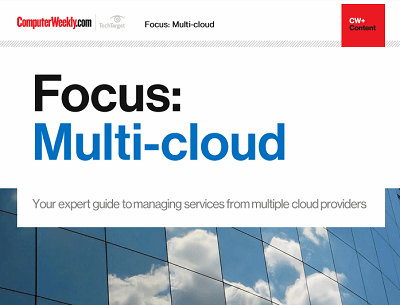 Mixing and matching your cloud options
Many IT leaders are increasingly coming round to the idea that sourcing services from one or more providers might be the best way to go. From a cost and resiliency perspective, some workloads might work better in one cloud over another. Or a certain provider might boast some functionality that suits a particular process the enterprise is looking to implement, but falls short in other areas, prompting the company to adopt a mix-and-match procurement strategy. Join us as Computer Weekly takes a closer look at the multi-cloud approach and what providers are doing to capitalise on the trend.
By submitting your personal information, you agree that TechTarget and its partners may contact you regarding relevant content, products and special offers.
You also agree that your personal information may be transferred and processed in the United States, and that you have read and agree to the Terms of Use and the Privacy Policy.
Rolls-Royce's mega deal success
Rolls-Royce believes outsourcing mega deals can deliver hefty savings and adapt to meet business needs.
Rolls-Royce IT director Luc Schmitz said the company saved tens of millions of pounds by halving the cost of its PC managed service unit under an outsourcing deal worth £1.3bn made with EDS in 2000.
However, other large companies, such as Barclays Bank, have signed a series of smaller outsourcing deals with different suppliers.
Read more on IT outsourcing