Texas to release Wlan software for 802.11a/g
Texas Instruments has claimed that its latest software deployed on a single Wlan chipset will be able to support 802.11g and...
Texas Instruments has claimed that its latest software deployed on a single Wlan chipset will be able to support 802.11g and 802.11a connections simultaneously.

Download this free guide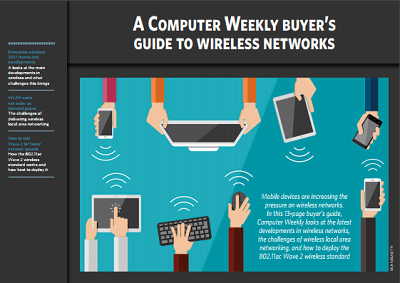 Carrying the heavy wireless burden of mobile devices
Mobile devices are increasing the pressure on wireless networks. In this buyer's guide, Computer Weekly looks at the latest developments in wireless networks, the challenges of wireless local area networking, and how to deploy the 802.11ac Wave 2 wireless standard.
By submitting your personal information, you agree that TechTarget and its partners may contact you regarding relevant content, products and special offers.
You also agree that your personal information may be transferred and processed in the United States, and that you have read and agree to the Terms of Use and the Privacy Policy.
The company is working with access point suppliers to have products available with its new wOne software around the start of the second quarter, said Lucy Huang, product manager for Wlan products at the Dallas company.
Several Wlan access points are available that can create both 802.11a and 802.11g networks, but products with wOne will be the first to accomplish that using a single Wlan chipset, she said.
The most widely used Wlan technology based on the 802.11 standard is 802.11b, but 802.11a and 802.11g networks offer more bandwidth. Products that run on 802.11g are compatible with 802.11b products because the two networks use the 2.4GHz frequency band of the electromagnetic spectrum.
Products based on 802.11a offer comparable networking speeds to 802.11g products but use the 5GHz frequency band, which is less prone to interference with other home wireless devices using the 2.4GHz band.
Wireless users have been slow to embrace the 802.11a standard because of its incompatibility with older 802.11b products, as well as its shorter range and higher price tag. Analysts believe that 802.11a will find a niche as a standard for home media wireless networking, because the range problem is not as much of an issue in a living room and the limited interference will allow for smoother delivery of movies and audio.
Wlan routers are available from manufacturers such as D-Link and Netgear that offer simultaneous connections using at least two 802.11a/b/g dualband chipsets. Existing dualband chipsets can only create one type of network, either an 802.11a network or a 802.11b/g network at a given time. This adds cost to the manufacturing process, which is passed on to the customer.
Tom Krazit writes for IDG News Service
Read more on Wireless networking