Dell to build fastest Linux supercomputer
The National Center for Supercomputing Applications (NCSA) intends to use more than 1,450 Dell servers in a powerful Linux...
The National Center for Supercomputing Applications (NCSA) plans to use more than 1,450 Dell servers in a powerful Linux supercomputer.
Linux is growing in popularity among supercomputer designers as an operating system for high-performance computing.
IBM and Fujitsu recently unveiled plans to build Linux supercomputers that promised to be the most powerful Linux systems yet devised, until Dell's announcement at Linuxworld in San Francisco.

Download this free guide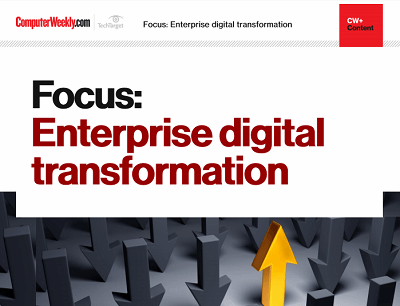 Are you digital to the transformation?
Digital transformation - the buzzword that we can't get away from. Enterprises need to accelerate their digital transformation journeys to avoid being left behind in an increasingly digital world. It's not an easy feat, but one that can be costly to get wrong. Join us as Computer Weekly takes a look at how businesses can stay on track through collaboration, innovation, and listening to user needs.
By submitting your personal information, you agree that TechTarget and its partners may contact you regarding relevant content, products and special offers.
You also agree that your personal information may be transferred and processed in the United States, and that you have read and agree to the Terms of Use and the Privacy Policy.
The NCSA will use 1,280 Dell PowerEdge servers, each with two 3.06GHz Xeon DP processors from Intel, in a cluster running Red Hat Linux, Dell said. The cluster will also use 106 PowerEdge servers for I/O services and storage.
The cluster will produce theoretical peak performance of 17.7 trillion floating point operations per second (T Flops), which would make it the third most powerful supercomputer in the world based on the latest Top 500 list of the world's supercomputers.
The NCSA cluster is scheduled to come online later this year at the NCSA facilities at the University of Illinois.
IBM's Linux supercomputer will use Advanced Micro Devices' Opteron processor and Intel's Itanium processor to deliver peak theoretical performance of 11.2T Flops.
Fujitsu said it will deliver 12.4T Flops of peak theoretical performance. Both systems are scheduled to be released next March.
Cray will follow with a Linux supercomputer using Opteron processors which is expected to deliver 40T Flops of peak theoretical performance when it is released late in 2004 for Sandia National Laboratories.
Lawrence Livermore National Laboratory at the University of California operates the fastest Linux supercomputer, which was built with clustering technology from Linux Networx. It delivers 11.1 T Flops of peak theoretical performance.
Tom Krazit writes for IDG News Service
Fujitsu and IBM battle it out for the fastest Linux supercomputer title >>
Read more on Operating systems software