Fujitsu and IBM battle it out for the fastest Linux supercomputer title
In the race to deliver the world's fastest Linux-based supercomputer, Fujitsu has announced an order for a machine that it...
In the race to deliver the world's fastest Linux-based supercomputer, Fujitsu has announced an order for a machine that it claimed to be faster than the one IBM announced a day earlier.

Download this free guide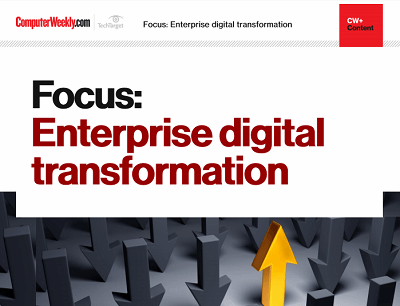 Are you digital to the transformation?
Digital transformation - the buzzword that we can't get away from. Enterprises need to accelerate their digital transformation journeys to avoid being left behind in an increasingly digital world. It's not an easy feat, but one that can be costly to get wrong. Join us as Computer Weekly takes a look at how businesses can stay on track through collaboration, innovation, and listening to user needs.
By submitting your personal information, you agree that TechTarget and its partners may contact you regarding relevant content, products and special offers.
You also agree that your personal information may be transferred and processed in the United States, and that you have read and agree to the Terms of Use and the Privacy Policy.
The Fujitsu computing cluster will contain 2,048 as-yet-unidentified processors and stands to deliver a peak performance of 12.4 trillion Flops (floating point operations per second), the company said.
Fujitsu received the order from Japan's Institute of Physical and Chemical Research (Riken), a governmental research organisation that will use the computer mainly in biotechnology research, and delivery is scheduled for March 2004.
IBM said a day earlier that it would deliver next March a Linux-based supercomputer to Japan's National Institute for Advanced Industrial Science and Technology (AIST).
The IBM machine, based around Advanced Micro Devices (AMD) Opteron 246 processors, will have a peak performance of 11.2 trillion Flops.
That speed places it just past the existing fastest Linux machine in the world, a computer at the Lawrence Livermore National Laboratory (LLNL) in the US that can manage 11.1 trillion Flops.
In addition to being the fastest Linux computer, the machine is also the third most powerful supercomputer in the world, according to the latest edition of the Top 500 supercomputer ranking.
The Fujitsu machine ordered by Riken stands to outpace the LLNL and AIST computers. However all three will be overshadowed by an even more powerful Linux-based computer expected in late 2004.
The Red Storm, which is under construction by Cray for Sandia National Laboratories in the US, is expected to deliver a peak performance of 40 trillion Flops.
It's speed is expected to make Red Storm not just the most powerful Linux-based computer in the world, but also a contender for the title of most powerful computer in the world.
The Earth Simulator, an NEC-built computer used at Japan Marine Science and Technology Center, is the at the moment the most powerful computer in the world. It has a peak performance of 41 trillion Flops, which is slightly faster than Red Storm, but Sandia has an option to upgrade Red Storm to 60 trillion Flops.
Martyn Williams writes for IDG News Service
Read more on Operating systems software