Key role for IT in space shuttle crash probe
When the space shuttle Columbia disintegrated over East Texas six months ago, NASA began an unprecedented effort to use IT to...
When the space shuttle Columbia disintegrated over East Texas six months ago, NASA began an unprecedented effort to use IT to locate and log debris scattered over nearly 1,000 square miles.

Download this free guide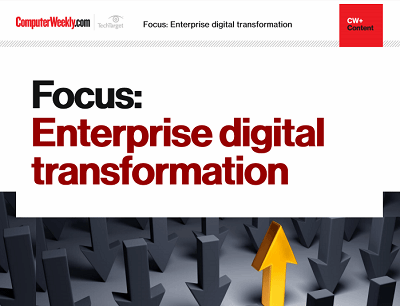 Are you digital to the transformation?
Digital transformation - the buzzword that we can't get away from. Enterprises need to accelerate their digital transformation journeys to avoid being left behind in an increasingly digital world. It's not an easy feat, but one that can be costly to get wrong. Join us as Computer Weekly takes a look at how businesses can stay on track through collaboration, innovation, and listening to user needs.
By submitting your personal information, you agree that TechTarget and its partners may contact you regarding relevant content, products and special offers.
You also agree that your personal information may be transferred and processed in the United States, and that you have read and agree to the Terms of Use and the Privacy Policy.
By the time NASA wound down its debris-collection effort in May, searchers had collected 84,000 pieces of debris - roughly 40% of the shuttle. Ninety-eight per cent of that debris was "geo-located" - found by means of Global Positioning System (GPS) technology. Information about the debris was stored in a Microsoft SQL Server database. A field data collection program running on Hewlett-Packard iPaq Pocket PCs was developed.
Roughly 40% of the iPaqs featured an integrated GPS receiver, which made entry of geo-location data automatic.
At the end of each day, debris teams would synchronise their data with a SQL Server database. Kristin Ingram, The information from the Environmental Protection Agency database was merged with a NASA database which included a shuttle parts list.
he data was then stored in the Shuttle Interagency Debris Database (SIDD). The SIDD runs on two Dell 8450 servers, each housing four Pentium III Xeon chips with 2GB of Ram and 18GB of storage. Additional storage was provided by dual Dell PowerVault systems with a capacity of 1TB each.
Data replication between the EPA and the SIDD SQL Server databases was done through bulk-merge replication rather than by transaction.
SIDD played a key role in refining the debris search daily by showing patterns in the distribution of key parts within the debris field. Those patterns helped narrow the search for Columbia's data recorder.
NASA's earth science information directorate at the Stennis Space Center helped turn the SIDD data into visual information with geographical information systems (GIS) technology.
Bob Brewin writes for Computerworld