Don't wait for the axe to fall
Worldcom: Analysts advise WorldCom customers to look for alternative suppliers. Antony Adshead reports.

Download this free guide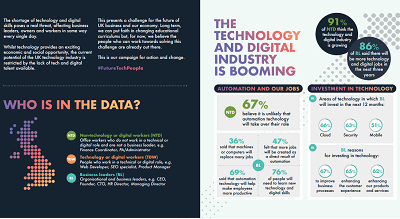 Infographic: Future-proofing UK technology
The current potential of the UK technology industry is restricted by the lack of tech and digital talent available. Read through this challenge for the future of UK business and our economy.

By submitting your personal information, you agree that TechTarget and its partners may contact you regarding relevant content, products and special offers.

You also agree that your personal information may be transferred and processed in the United States, and that you have read and agree to the Terms of Use and the Privacy Policy.

Worldcom: Analysts advise WorldCom customers to look for alternative suppliers. Antony Adshead reports.



Analysts have urged World- Com users to seek alternative suppliers for telecoms services immediately. The company is in trouble following the exposure last week of a $4bn (£2.6bn) accounting fraud. It is the second major network carrier to face collapse in a matter of weeks.

WorldCom, which is estimated to have up to 25 million users and carry between 40% and 60% of the world's Internet traffic, faces bankruptcy and the possible break-up of its networks.

Last month European fibre optic network provider KPNQwest, which owns about 30% of Europe's backbone, went bankrupt and is likely to have its network sold off.

Users should look for alternatives to WorldCom services. Larry Velez, an analyst at Meta, said, "Customers should transition managed services away from WorldCom now - especially in Europe - because we expect the company to contract there first." He warned that customers buying managed services from WorldCom could be most at risk because it will be more difficult for them to find a qualified provider than firms seeking only basic network services.

Maureen Coulter, an analyst at Gartner, said that while business users must be prepared for the worst there is no need to change supplier immediately. "At the moment the network is up and running and there is no sign of it going down. Customers should not make a quick exit but should have contingency plans in place," she said.

Coulter added that, given the geographical extent of KPNQwest and WorldCom's networks, businesses seeking alternatives may have to look at more than one supplier to get the same reach. But with so many telecos in financial trouble, finding a stable alternative to WorldCom could be difficult. She suggested users should seek "second carriers" - companies that entered the telecoms market immediately after deregulation.

Meta Group said WorldCom customers with US contracts should use exit clauses before Chapter 11 bankruptcy protection is declared because it will be almost impossible to do so once it is in place. For those with contracts with WorldCom business units globally it recommended get-out clauses be inserted into contracts allowing them to exit should any unit go bankrupt.

Meta Group advised users without an exit clause to "immediately examine their contractual commitments and plan to migrate business-critical traffic immediately to other carriers to mitigate against catastrophic failure".

Velez advised WorldCom customers in Europe to look at switching to Equant, Infonet, BT Ignite or T-Systems. He does not believe WorldCom's networks face imminent collapse but fears that service quality will be hit by the 17,000 redundancies and general uncertainty surrounding the company.

A Worldcom spokesman said, "The company's chief executive has stated that its commitment to customers is unwavering and the latest events have no bearing on the delivery of services."

CMA advice for UK WorldCom customers
Mike Mikkelsen, head of the Communication Management Association's Risk and Continuity Special Interest Group, said UK blue-chip companies are seriously exposed to WorldCom's networks. "UK PLC's top 100 has a huge dependency on WorldCom because they are the least-cost routed option in the UK. This means many other carriers use them as a backbone along which to route long-distance voice traffic," he said.

Mikkelsen recommended the following measures for businesses exposed to Worldcom's problems.


Create a management team to control and monitor the situation and represent the financial director, the IT director and the person responsible for voice communications


Generate a report establishing your business's voice and data requirements - know the full picture


Open a dialogue with the service provider to establish terms should it have to re-route traffic from WorldCom's backbone


Initiate a comprehensive voice services contingency/exit plan and talk to potential suppliers.
E-Handbook

E-Handbook

E-Handbook
Read more on IT supplier relationship management