News round up: June 2002
Summary of news stories from June 2002.
This Article Covers
RELATED TOPICS

Download this free guide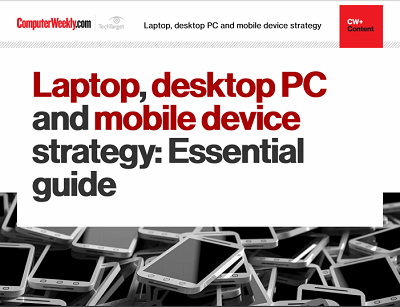 The great debate - to PC or not to PC
IT leaders have greater choice in end-user devices than ever before. The age of PC-only users is over and we have entered the multiple device era. In this guide, you can find best practice, analysis of the latest trends, and expert advice on formulating enterprise strategy in laptops, desktop PCs and mobile devices.

By submitting your personal information, you agree that TechTarget and its partners may contact you regarding relevant content, products and special offers.

You also agree that your personal information may be transferred and processed in the United States, and that you have read and agree to the Terms of Use and the Privacy Policy.

Summary of news stories from June 2002.



July debut for new 64-bit Intel
Intel's forthcoming Itanium 2 processor - the next version of its 64-bit processor - will be available in the middle of July, according to sources close to its development. Servers based on the new chip are likely to follow almost immediately.

The chip giant's first attempt at 64-bit computing, the Itanium, flopped because it is a "dead-end chip" with no practical upgrade path, said Kevin Krewell, general manager at chip analyst firm MDR.

Despite providing a significant boost to computing power compared to 32-bit processors, Intel sold fewer than 1,000 Itanium chips.

Itanium 2, known as McKinley throughout its development, will see wider adoption than the current Itanium processor, but current servers cannot be upgraded without replacing the motherboard.

The 64-bit approach is of particular interest to scientific researchers who use complex numbers that require the use of floating-point calculations; high-throughput online transaction processing, where being able to address up to 16Tbytes of memory will allow a database to be stored in fast memory; multimedia applications; computer-aided design and engineering or virtual world generators which require many calculations to be performed and transformed within 3D models; and security gateways where many encryption/ decryption actions have to be performed in real time.

Giga analysts issue warning on portals
The successful implementation of an enterprise portal depends on having clear goals and paying keen attention to user experience, Laura Ramos, director of Giga Information Group's Enterprise Portals and Information Management Group, has warned.

Ramos advised companies deploying portals to avoid problems by narrowing the focus in their early projects.

"You need to think about user experience, more so than the technology, when implementing portals," she said. "You need to start with the basics. Start by focusing on who will be using the portal, what they will be doing with it, and scope down your initial portal efforts to one or two key audiences, rather than trying to do the 'big bang' and deploy a whole enterprise portal all at once."

The portals market has moved through three phases, according to Giga. Early corporate portal projects focused on content aggregation. In the second phase, integration of disparate applications became the goal for implementations.

The third phase, which is just beginning, involves using portal technology to integrate applications and content, adding workflow and collaboration features.

Microsoft in yet another patch shock
Microsoft has urged users to upgrade their Windows 2000 and NT installations with a patch to overcome another security hole found in the operating system's debugging facility.

According to Microsoft Security Bulletin MS02-024, the flaw allows a would-be hacker to run any program on an affected machine by exploiting a feature in the Windows debugging environment normally used to track down application software errors.

When a program fails, the debugging environment in Windows normally allows users to run a debugging "session" which allows them to trace where the problem occurred. However, a flaw means a hacker could replace the debugging software with their own malicious code.

This could then run the machine with system-level privileges - in effect, as a system administrator. This would allow the hacker to create fake accounts on the machine, delete files and possibly install Trojan programs for capturing users' personal data and passwords.

In order to exploit the flaw, a hacker would need to log in into an unpatched Windows NT/2000 machine. Microsoft said the risk of attack could be minimised by preventing users from downloading software from the Internet. Details of the flaw and the patch are at: www.microsoft.com/technet/treeview/default.asp?url=/technet/security/bulletin/MS02-024.asp

Whitehall reviews the UK's cybercrime laws
The Government has begun a review of the Computer Misuse Act, acting on concerns that UK law contains loopholes that make it difficult for the police to prosecute the perpetrators of denial of service attacks.

The review, which is being spearheaded by the Internet Crime Forum and the Crown Prosecution Service, will assess the effectiveness of the Act against different types of denial of service attacks. It forms part of a wider re-assessment of the UK's computer crime laws planned by the Home Office, following the Government's decision to sign the European Convention on Cybercrime in November and the National High-Tech Crime Unit's concerns about the difficulties of prosecuting certain types of denial of service attacks under the Act.

The Internet Crime Forum, which includes representatives from businesses, police and the Government, plans to draw on the expertise of its members to complete the review in a matter of months.

New IBM servers bring Linux within reach of smaller firms
IBM is trying to bring Linux within the reach of small and medium-sized businesses that may not have the in-house knowledge to set up and maintain the open source operating system.

At its Developerworks Live conference in San Franciso last month, IBM unveiled the eServer Integrated Platform, which offers the Websphere Application Server and DB2 database for Linux running on an Intel-based xSeries (PC) server.

Not quite a proprietary turnkey system but firmly IBM-centric, this SuSE Linux platform is designed to give IBM's channel partners a configured system to which they can easily add their customers' choices of Linux applications. Effectively, it produces a similar environment for the resellers to a standard PC that comes with Windows already loaded

A major boost to this initiative has been the arrival of financial software specialist Sage on the Linux scene. Unfortunately, the other major packages tailored for the SME sector, such as Navision, are now under the control of Microsoft. However, IBM said it will be selecting, supporting and encouraging software houses to move key small-business packages to Linux over the coming months.

Consortium to raise quality of software
A technology consortium dedicated to improving the reliability and security of commercial software has been formed by a group of US businesses and academics.

Microsoft, Oracle and Cisco have teamed up with insurance groups such as American International Group (AIG), banks, and mission-critical software users such as Nasa to form the Sustainable Computing Consortium (SCC).

The new outfit will be co-ordinated from Carnegie Mellon University in Pittsburgh and will work to initiate public policy debates and create standards and techniques for developing more reliable software.

"Software systems have become the critical infrastructure of our nation and economy. Unreliable software has profound consequences," said William Guttman, director of the SCC.

He said the loss of a single mobile telephone network node because of a software failure could cost a company £12,300 or more per minute.

Recent statistics from the Washington-based National Research Council show that US companies spent £120bn last year to repair damage caused by software defects and £8.5bn to repair systems affected by computer viruses. SCC officials said those costs are likely to rise this year.

Poor Web security breaks law
Almost all UK companies with a Web presence could be in breach of data protection laws, according to security consultant Neil Hare-Brown, director of QCC Information Security.

He said the figure could be as high as 90% because of the lack of security in HTML pages. Hare-Brown cited a statement from analyst firm Gartner that in the future 75% of attacks will be launched via the Web, rather than from inside companies.

Hare-Brown advised firms to run regular penetration tests and look to external security systems to address this weakness. The browser can be a hacking tool when it has a feature that allows users to examine the HTTP scripting for Web pages. He said, "The Web site needs a protective mechanism in place to mitigate risk. It needs to be easily updated because new vulnerabilities appear as new features are added to existing pages."

HP-Compaq kills off products
The completion of HP's merger with Compaq will lead to a number of products in both companies being phased out over the next five years.

At the highest level, HP wants Compaq high-end Unix users to move on to HP-UX. On the Windows platform, the Compaq PC desktop, notebook and server hardware will remain. The handheld choice is iPaq, which wins over HP's Jornada device.

The following changes have been announced:

Windows. Compaq Proliant 32-bit server family to replace HP Netserver


Unix. Compaq Tru64 will be dropped in favour of HP-UX


Desktop. HP's professional desktop (Vectra) and notebook (Omnibook) product families will be phased out


Mobile. Compaq iPaq remains; HP Jornada will go.


IT budgets will stay slim this year
Spending on IT projects will remain flat for the rest of 2002, according to a
survey by Gartner and the Goldman Sachs Group.

Mainframes, contract labour services and datacentre outsourcing are low on IT shopping lists, while technology sectors such as security, storage, personal digital assistants and Web-based applications are likely to see the most growth this year.

The survey was conducted among 369 of the 1,800 attendees at a Gartner conference last month.

Many of the respondents in the Gartner/Sachs survey said they expect the world economy to improve modestly by the end of the year. At the same
time, 78% said any such improvement would not drive any change in their spending plans for 2002.

Results of the Gartner/Sachs survey are consistent with a Giga Information Group report that also predicts flat IT spending for 2002. While US IT budgets are up 4% in 2002, actual spending will not show any improvement over 2001, based on first-quarter 2002 spending numbers, the Giga report said.

Database software market may surge soon
Worldwide sales of relational and object-relational database management systems (RDBMS) are poised to climb following the economic slowdown of the past 12 months, according to a report from IDC. The market research group predicts that sales will grow to £14bn by 2006.

Although widespread IT spending cutbacks in 2001 left RDBMS suppliers focusing on the middle market rather than high-end clients, the market will begin to mature as service providers start to ramp up their buying in 2004, IDC said.

Last year's tough economic climate has changed the market landscape. Some smaller suppliers had to close down, while industry stalwarts such as Progress Software were able to stay in the game.

Suppliers with a solid track record in the middle market fared better than those dependent on large contracts, which were hit by cutbacks in spending and contract cancellations.

Microsoft thrived last year, while Oracle slipped somewhat, although it continued to be the market leader, IDC said.

Microsoft's success was based on the fact that the company's RDBMS software is fairly low-priced, has strong reseller channels, and sells to the middle market, according to Carl Olofson, application development and deployment research director at IDC.

Oracle, on the other hand, lost ground because much of its revenue is derived from high-end products sold to large accounts, Olofson said.

Meanwhile, IBM's growth was aided by the company's acquisition of Informix's RDBMS products.

Microsoft updates portal roadmap
The next update to Microsoft's Sharepoint line of portal and collaboration software will integrate the products with the company's .net framework and tie them tightly to Microsoft's other server software.

New versions of Microsoft's Sharepoint Portal Server and Sharepoint Team Services are not due until mid-2003, according to Sharepoint product manager Trina Seinfeld.

First released in April 2001 in conjunction with Microsoft's Office XP launch, Sharepoint Portal Server has sold three million seat licences, while Sharepoint Team Services has been used for thousands of collaborative Web sites.

The next SharePoint versions will natively support XML Web services and allow developers to customise portals with Microsoft's Visual Studio .net.

Sharepoint Portal Server will be integrated with several other Microsoft products, including its Biztalk Server and Content Management Server (CMS), extending functionality introduced last week, when Microsoft released a free integration pack to tie together Sharepoint and CMS.

Linking Sharepoint and CMS allows users to access documents quickly through Sharepoint and publish them through CMS.

JD Edwards takes on Web services
Enterprise software supplier JD Edwards has announced that version 5 of its core software will incorporate Web services.

The new release includes ERP (enterprise resource planning), supply chain management, CRM (customer relationship management), SRM (supplier relationship management), business intelligence, collaboration, and integration for self-service applications and its middleware tools.

Integration between modules is to be helped along by the use of Web services protocols such as Soap (Simple Object Access Protocol) and WSDL (Web Services Description Language).

JD Edwards 5 also has a service-oriented architecture that separates the application services from data and presentation layers.

The ERP solution will be available this month, the CRM offering will be released by the end of the year, and the supply-chain management module will ship in two stages - one next month and the second by the end of the year.