US Robotics doubles speed of 802.11bwireless LAN
US Robotics has boosted the speed of its latest range of wireless LAN products for small businesses to 22 Mbps.

Download this free guide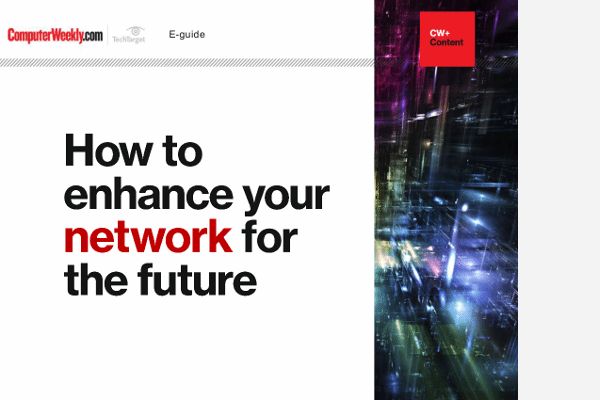 How to enhance your network for the future
Latest on networking developments and directions: NFV, self-optimising networks and IoT enabled smart cities
By submitting your email address, you agree to receive emails regarding relevant topic offers from TechTarget and its partners. You can withdraw your consent at any time. Contact TechTarget at 275 Grove Street, Newton, MA.
You also agree that your personal information may be transferred and processed in the United States, and that you have read and agree to the Terms of Use and the Privacy Policy.

US Robotics has boosted the speed of its latest range of wireless LAN products for small businesses to 22 Mbps.



The latest wireless LAN is built on the IEEE 802.11b standard and uses the 2.4GHz spectrum which, the company claims, makes it compatible with other 802.11b products.

The 22 MBps configuration is available in a new wireless access point (base station), a PC card adaptor and a PCI adaptor. The 22M bps Wireless Access Point will have a suggested retail price of $200 (£139), the 22M bps Wireless Access PC Card $100 (£69) and the 22M bps Wireless Access PCI Adapter Card $120 (£83). All three will be available from June.

Thanks to a more powerful radio and some other performance tweaks, the company claims the products offer 30% greater linear range, or around 70% better area coverage than existing systems.

USR's networking product line manager, Juan Lopez, said the three products use the ACX100 chip from Texas Instruments. The chip also supports a modulation scheme developed by TI, called PBCC (packet binary convolutional code). This gives the products the extra kick: even at lower speeds, PBCC provides better performance at greater distance.

Although a faster alternative, the 54M-bps IEEE 802.11a, has been on the market for more than a month, systems based on 802.11a standard are not backward-compatible because they operate in a different frequency band, 5GHz.

According to Lopez, this backwards compatibility with other 2.4GHz equipment is important, as many of the service providers offering WLAN coverage in public spaces such as airports and hotels are already using 802.11b systems. He said that older WLAN equipment can still benefit from some of the other performance improvements offered by the latest range.
Read more on Wireless networking