MPEG-4 group touts interoperability
The MPEG-4 multimedia coding standard is gaining momentum as the number of companies testing MPEG-4 products grows, the MPEG-4...

Download this free guide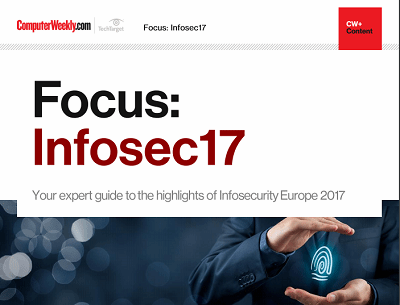 From forensic cyber to encryption: InfoSec17
Security technologist Bruce Schneier's insights and warnings around the regulation of IoT security and forensic cyber psychologist Mary Aiken's comments around the tensions between encryption and state security were the top highlights of the keynote presentations at Infosecurity Europe 2017 in London.

The MPEG-4 multimedia coding standard is gaining momentum as the number of companies testing MPEG-4 products grows, the MPEG-4 Industry Forum said Thursday.



Twenty-nine vendors, including Koninklijke Philips, Samsung Electronics, Apple Computer and IBM, successfully concluded a third round of interoperability testing, the MPEG-4 Industry Forum (M4IF) said.

Content encoded on a product from one vendor was played using a decoder from another vendor.

"This is the first time that M4IF has gone public since the testing started; we have reached a benchmark," said an M4IF spokesman.

"We have seen tremendous growth in the list of companies testing interoperability. Four vendors decided to get on board in the past two days and the number of people applying to be on the list is growing."

The next step in testing will be live streaming of content, the spokesman said. He added that the M4IF is working on a self-certification scheme so vendors can test compliance of their products.

Interoperability is important as the multi-vendor model is what distinguishes MPEG-4 from competing coding technologies offered by RealNetworks and Microsoft, said Sebastian Moeritz, chief executive of Germany's Dicas Digital Image Coding, a maker of video coding technology, and a member of the M4IF.

"MPEG-4 offers something that RealNetworks and Microsoft don't: choice. If you want video coding technology from Microsoft, then Microsoft is your vendor. With MPEG-4 there is a choice of multiple vendors," he said.

MPEG-4, the successor to MPEG-2, will first be used on the Internet. It promises a much better picture at lower bit rates than is common today. MPEG-4 may be used in many devices, including TV set-top boxes and mobile phones.

Moeritz expects to see MPEG-4 in use later this year, or early next year.

"Two years ago people were asking what MPEG-4 is. This year we see a concrete demand for MPEG-4 products. Whether in fact it will be in 2002 or the beginning of 2003 before it takes off remains to be seen, but MPEG-4 will be introduced within the next 12 months," he said.

One issue holding back broad online use of MPEG-4 is licensing. Vendors, Apple being the most vocal, have protested against the licensing scheme suggested by patent holders.

M4IF, however, is positive that the issue will be resolved. Apple is also a member of the M4IF.
Read more on IT risk management