News
Stay informed about the latest enterprise technology news and product updates.
EMC upgrades hardware range, goes green - UPDATE
EMC has upgraded its five main hardware lines, introduced power-saving technology and hinted at enhancements to its data de-duplication tools.
EMC has announced new versions of its Symmetrix, Celerra, Rainfinity, Centera and CLARiiON products, along with a new push to reduce the products' energy requirements.

Download this free guide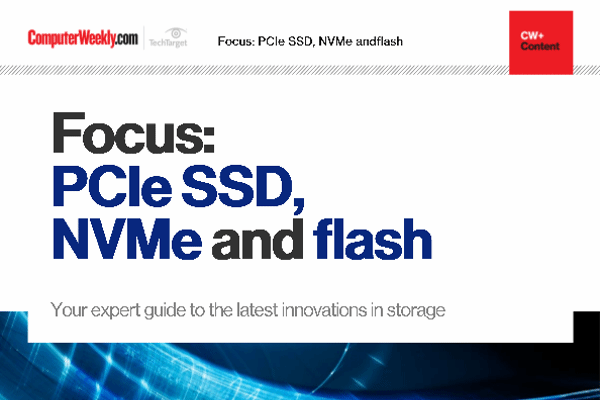 How to soar your storage performances?
The latest PCIe and NVMe technologies offer huge performance gains. Discover their features in this expert guide
By submitting your personal information, you agree that TechTarget and its partners may contact you regarding relevant content, products and special offers.
You also agree that your personal information may be transferred and processed in the United States, and that you have read and agree to the Terms of Use and the Privacy Policy.
The new Symmetrix, dubbed the DMX-4, adds a new 4Gb/s architecture and the ability to use 750 gigabyte SATA II hard disks.
The new Celerra NS20 was hailed by EMC ANZ Managing Director David Webster as "redefining entry-level NAS," in part thanks to its inclusion of both iSCSI and Fibre Channel connectivity options and setup software the company says will see the machines operational 15 minutes after installation. Webster added his expectation that the reseller community will push the new Celerra machines hard, given their competitive price (from $25,000) and ability to help consultancies provide end-to-end IP services covering data, voice and now storage.
The new Rainfinity archiving appliance falls to a price point around $40,000 and adds enhanced replication tools while the CLARiiON range gains an entirely new operating system, dubbed FLARE.
The company said the new Centera 4LP (low power) can reduce electricity consumption by up to 50%, thanks to a host of new low-power components and software enhancements that provide smarter caching and performs tricks like turning off fans sooner rather than later.
That technology, said the company's marketing manager for IP Solutions Clive Gold, will eventually migrate across the entire EMC hardware line.
Gold also hinted at future de-duplication announcements, telling searchstorage.com.au that customers can expect an announcement on the company's Avamar tool 'soon.'
More details on Symmetrix DMX-4
"First, you make it work, then you make it faster." That's how EMC's director of technology analysis Ken Steinhardt described the updates to the Symmetrix microcode that make up the new DMX-4. The new DMX doesn't have many new functions over the old version, but EMC said operations, such as copy on first write, cache management, target restore operations, performance times for full clone creation and TimeFinder sync performance have all been brushed up thanks to code improvements in Symmetrix microcode and its Engenuity management software.
EMC is claiming 30% performance improvements in RAID 5 and RAID 6 provisioning, and up to 33% better SRDF/S replication response time. Another update means that users can double the maximum synchronous replication distance from 100km to 200 km, but users must pick between the distance or the performance boost. Also, the number of snapshots per volume has been increased from 16 snapshots to 128 snapshots.
As with the DMX-3 line, a "baby" model 950 will be available for the DMX-4, and this will support FICON.
EMC was mum when it came to exactly what's been improved about the Symm code and refused to give actual numbers when it came to its claims about percentage performance improvements. "The core of these improvements gets into our secret sauce, and to even describe them conceptually would be to give away critical proprietary information," Steinhardt said.
The overhaul of the Centera CAS archiving hardware adds new, more compact 1U storage nodes that allow more capacity in the same chassis, and it follows better power efficiency. A further power boost will come from support for 750 GB disks. Each node will now hold 3 TB, as opposed to 2 TB in the previous version. Each rack can now hold 96 TB per rack, as opposed to 64 TB in the previous model. Thus it will require 41 watts per terabyte as opposed to 125W per TB, EMC claims. Also, despite rumors in the industry that the next generation of Centera would require a disruptive upgrade, the new Centera nodes will be backward compatible with previous nodes and management software. Newer 1 TB SATA drives are available, which presumably would boost the power equation even more, but EMC declined comment as to when and if it will add support for those drives.
Read more on SAN, NAS, solid state, RAID