ExaGrid data deduplication helps UK law firm slash data backup and restore
Data deduplication devices from ExaGrid chosen over Data Domain and three other vendors as law firm tackles lengthy data backups and restores, and cuts data deduplication ratios.
Data deduplication hardware from ExaGrid has been implemented by UK-based international law firm Bird & Bird in a £120,000 project that saw four other vendors, including Data Domain, rejected at the evaluation stage. The ExaGrid implementation brought data deduplication ratios of approximately 14:1, slashed data backup times and made restores virtually instantaneous.

Bird & Bird has 21 offices worldwide and focuses on multimedia, telecoms, information technology and intellectual property legal issues. Four years ago, it centralised document management for most of those offices to the London office. But data growth began to have a serious impact on backup and restore times.

Download this free guide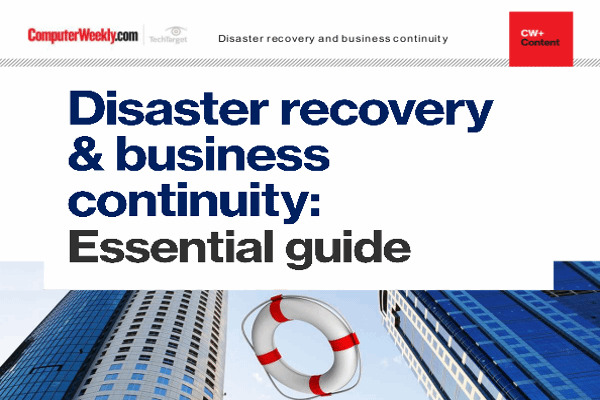 Disaster recovery and business continuity: Essential guide
Download this e-guide to create a solid DR and BC plan and protect your organisation from negative events.

By submitting your personal information, you agree that TechTarget and its partners may contact you regarding relevant content, products and special offers.

You also agree that your personal information may be transferred and processed in the United States, and that you have read and agree to the Terms of Use and the Privacy Policy.

"We were a tape backup house, but we couldn't handle the volume anymore," said Jon Spencer, infrastructure manager at Bird & Bird. "A full backup that started on Friday was filling about 20 LTO-3 tapes with 12 TB at 1.5:1 compression, and often ran into Monday or Tuesday." Bird & Bird was using Symantec Backup Exec 11d at the time, but now uses Version 12.5. Restores were also a problem for the firm. Users often needed to recall documents from backup tapes, which were held off-site and could take hours to recover.

Spencer decided that adding more tape would not solve his problems and decided to go for a disk-based backup system.

Evaluation process narrows the field

The law firm began evaluating appliances from Data Domain, ExaGrid, FalconStor Software and Quantum, as well as Symantec's NetBackup PureDisk software product.

Bird & Bird borrowed a unit from each of the vendors, set it up on its media server, and then ran a series of backups and restores using the same Exchange backups and flat-file data each time. "Evaluations are important to me as you get an indication as to the efficiency of the organisation and you get to meet the techie guys too," Spencer said.

Spencer said there was very little difference between the five manufacturers as far as backup/restore speed was concerned. However, Quantum was rejected because it lacked the scalability Bird & Bird required. FalconStor was rejected for the same reason and because the product offered was a virtual tape library (VTL). Symantec's NetBackup PureDisk lacked Microsoft Exchange 2003 support at the time and would have forced the law firm to upgrade to NetBackup.

During this part of the evaluation Spencer decided not to go with a source data deduplication product like PureDisk. "We were skeptical about the effect on hosts of a source-based dedupe product like PureDisk. With ExaGrid, there's a hit in terms of processing time, but it's worth it not to affect hosts," he said.

From the initial five vendors Spencer's team arrived at a shortlist of ExaGrid and Data Domain. ExaGrid won out on its ability to centrally manage geographically dispersed units and its user interface. Spencer also liked that ExaGrid is a smaller organisation so it was more adaptable to Bird & Bird's needs and provided better support.

Data deduplication ratio improves with ExaGrid

Bird & Bird spent £103,000 on four ExaGrid EX5000 systems with 20 TB total capacity for its London offices and an EX1000 for the Hong Kong office. (The remaining £17,000 spent on the project went to implementation costs.)

The law firm runs daily incremental and weekly full backups through the ExaGrid devices and archives to a Quantum Scalar i500 tape library once a month.

The ExaGrid devices implement target-based data deduplication and carry out data reduction post-process. This means data deduplication is done after data has been sent to the device and held in a landing area. Other data deduplication products, such as Data Domain's, deduplicate data inline as it is ingested into the device.

Post-process data deduplication is no disadvantage, according to Spencer. "I don't take too much notice of what the ExaGrids are doing once the backup is finished. As soon as the job has completed, it is available for restore if required and that is all we care about. The deduplication process from the weekend is often still running when the Monday night incremental backups kick in, but it doesn't seem to affect the speed; and the size of the landing zone the ExaGrids allocate has proved to be sufficient."

Spencer calculates that he has achieved a data deduplication ratio of 14:1 since he began using the ExaGrid devices. "The amount of data has grown considerably in the last 12 months," he said, "but I would estimate that if we had to revert back to tape we would add at least 50% to the current disk-only backup window."

Bird & Bird now has almost immediate availability of restores and keeps between three weeks and eight weeks of backups on the ExaGrid machines. The backup window has been reduced by a third and is carried out with seven or eight backup streams instead of the two or three it could manage with tape.
Read more on Data protection, backup and archiving