As more businesses rely on internet-based business applications, they face new challenges in managing them, writes Michael Allen, EMEA application performance management solutions director Compuware. Now that applications are borderless, in that they can be located and used outside company walls, businesses must ensure they put in place the right systems to ensure all areas of the business are running effectively.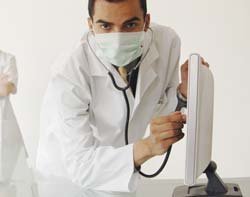 To manage these applications, real-time access to performance and accessibility information is vital. A recent survey Compuware conducted with IDC found almost two in five (37%) respondents said this was their top IT priority for the next two years.
This suggests CIOs need to explore new management tools because the old ones are simply not equipped to support the new web-led model.
The rise of the borderless application
Internet-based applications offer myriad benefits. For often minimal investment, the organisation can take advantage of easy access to company information no matter where staff and customers are, and share information between staff quickly and securely to name just a couple of benefits.
This is leading businesses to adopt a more internet-focused model to become more efficient, cut costs and battle the tough economic climate. For example, cloud computing is becoming a business IT staple. Figures from the Information Systems Audit and Control Association (ISACA) suggest 40% of UK companies now use cloud computing in some form.
As this shift gathers pace and CIOs place borderless applications at the heart of the enterprise, performance management becomes crucial to ensure the end-user experience is perfect all the time.
The application performance management (APM) blind-spot
Critical business processes, from billing to logistics, are increasingly underpinned by, and often implemented as, borderless applications. Therefore CIOs need visibility across the enterprise, internet and data centre delivery chain. Weak links can have catastrophic consequences.
For example, an online retailer with no real-time information into website performance and user behaviour will be blind to any problems and unable to anticipate and avert them with proactive action. Ignoring performance management will reduce customer intimacy, increase churn and lead to costly reactive fire-fighting. Internet customer loyalty is wafer-thin, so visitors that do not get the service they expect will end up frustrated and likely fall into the clutches of a competitor.
How can businesses gain better control over internet activity?
Compuware research showed that only 31% of enterprises feel confident enough to understand the impacts, risks and opportunities in using the internet. The vast majority have no real-time access to the performance and availability information they needed.
This is the crux of the problem. Companies mostly still rely on dated application performance management approaches that offer little or no real-time information on how borderless applications perform at any given time. Instead, most systems used to monitor performance and accessibility do so after the fact, reporting only after problems have escalated.
Decision makers know this needs to change, given the extent to which their businesses rely on internet services, browsers and devices outside their control. Some 39% said their inability to resolve problems proactively in these areas was one of their greatest business risks.
What the future will bring for internet-led business?
The internet, by its very nature, is real time. It provides instant access to information but can provide equally instantaneous problems with little or no warning. Sporadic, historical reports on application performance simply aren't good enough.
To truly make the most of internet-led business activity, CIOs and application monitoring teams must invest in the tools and processes needed to capture real-time, end-to-end visibility across the data centre and the internet.
Only then will they truly see the great returns on investment that cloud computing, the internet and borderless applications promise.
Email Alerts
Register now to receive ComputerWeekly.com IT-related news, guides and more, delivered to your inbox.
By submitting your personal information, you agree to receive emails regarding relevant products and special offers from TechTarget and its partners. You also agree that your personal information may be transferred and processed in the United States, and that you have read and agree to the
Terms of Use
and the
Privacy Policy
.