Roger Gilbert (pictured) took over as CEO of Fujitsu UK & Ireland in April 2009. Since then the parent company has largely merged its UK operations with Fujitsu Telecommunications, bought out German electrical engineering firm Siemens's share of Fujitsu Siemens and restructured its products and services to compete more vigorously as a global supplier of cloud-based and managed services.
Recently the new UK government called in its 19 largest IT and communications (ICT) suppliers to demand a 20% cut in its £7.5bn a year IT and communications bill. Fujitsu UK gets about 60% of its £1.8bn revenue from government, so this was a call to sharpen the mind, if not the pencil.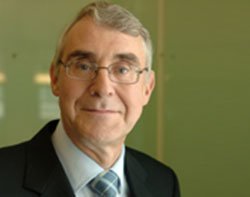 In the first of a two-part series Gilbert discusses Fujitsu UK approach to the new regime. In the second part he deals with relations with non-government customers.
Computer Weekly: How is Fujitsu responding to the government's call to help it cut its IT bill by 20%?
Roger Gilbert: We are now collecting our thoughts on what would excite government before we enter negotiations. We would like to understand government's view with respect to deals such as the DWP deal [Fujitsu will manage more than one million government desktops for seven years] which was already keenly priced. We estimate that with this and other projects where we have negotiated extensions to existing contracts within the past 12 months, we've already saved the government almost £1bn over the life of the projects, compared to their previous contracts. We would like to know if we can include that in the negotiations.
CW: Where will the savings come from?
Gilbert: We believe the government doesn't have to buy new every time. There is a lot to be saved through consolidation and the re-use of existing infrastructure. At the Home Office we were able to save a lot by restructuring the work done by the various contractors into more logical work packages. Clearly investing in new technology reduces running costs.
Generally, finding ways to improve the working relationship with the customer can contribute to savings. And of course in some cases we were prepared to accept lower margins in return for longer contract periods. But government has said that is not one of the routes it wishes to pursue this time around.
We will go into the negotiations with a very positive attitude to try and be part of the solution. We will be proposing ways where, if government does things differently, we can save them money.
CW: Talk of consolidation sounds very much government CIO John Sutcliff's plan for the government G-cloud - bigger but fewer datacentres. Is that Fujitsu's proposal?
Gilbert: In principle that's what we are talking about, but one must be careful that the savings produced are not too far in the future. Government wants savings in the near future. There are other things that can give a quicker payback, for example, sharing desktop architectures, consolidating network assets. We have yet to engage government in detail to understand what would fit their bill, but we are ready to go with lots of ideas.
CW: Why is it so hard for the government to bring in large IT projects on time and within budget?
Gilbert: Government has some very complicated systems and they work with a level of scrutiny that is not common outside government. You must balance that against the systems that no-one talks about that are successful. For example the HMRC must deal with a very complex and fast-changing tax environment, which it does correctly time and time again.
CW: The sacking of Raytheon as the lead on the e-Border project indicates a more aggressive attitude from government.
Gilbert: We have an extremely good relationship with the Home Office; we are one of their major suppliers. But that relationship is challenging, quite rightly, because they are spending taxpayers' money and we have to continually demonstrate that we are delivering good value for money. I am ready to be tested against those measures.
CW: Is the change in the lead for the e-Borders contract an opportunity for Fujitsu?
Gilbert: We'll have to wait and see. We are certainly in a position to be considered, and I would very much like to show what we can do.
CW: The government has stated its intention to limit contracts to £100m parcels. What does that do to your business model?
Gilbert: We are most successful with contracts in the £50m to £100m range, so limiting contracts to £100 is not a big issue for me. Of course, we are also willing and able to pitch for bigger contracts, as the DWP deal shows.
The difficulty is that we have to invest a lot of money in tendering for the very large contracts, and there can be only one winner, so the stakes for those contracts are quite high. I feel very comfortable with the government tackling things in smaller chunks.
CW: Will it lead to more successful contracts?
Gilbert: The issue for government will be to integrate the contracts. What it means is that you are choosing the best supplier for each aspect of the contract. The government will have to find the talent it needs to run the integration. Given that, I think it can be made to work. We see this in the private sector where some customers prefer to buy their IT in smaller chunks and combine them while others prefer a more completely outsourced option. Both work.
CW: So what will Fujitsu's speciality be?
Gilbert: Our tradition core strengths have been in desktop management, service desk, datacentre management, engineering and support. This year I have invested in developing our strength in communications and networks.
CW: The government has talked a lot about broadband. What opportunities do you see there for Fujitsu?
Gilbert: BT is a big client of Fujitsu Telecom, so we are already quite a big part of Digital Britain, even if it is in the background. I would say about 40% of homes connected to contraband have Fujitsu equipment somewhere in their path. BT has two suppliers for its 21CN core network; one is Huawei, the other is Fujitsu. We also provide managed network services, so there's quite a lot that we provide BT apart from product. We are also involved in delivering fibre to the home in Saudi Arabia, and we are working with i3's Fibrecity project to deliver fibre to the home in Dundee.
Email Alerts
Register now to receive ComputerWeekly.com IT-related news, guides and more, delivered to your inbox.
By submitting your personal information, you agree to receive emails regarding relevant products and special offers from TechTarget and its partners. You also agree that your personal information may be transferred and processed in the United States, and that you have read and agree to the
Terms of Use
and the
Privacy Policy
.