Communications minister Stephen Carter's report on Digital Britain, expected on 16 June, is an opportunity to put Britain on the digital fast track, or to perpetuate policies that will hamstring economic development.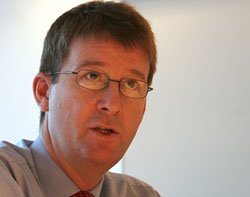 Carter hopes to achieve five goals:
1. To upgrade and modernise the UK's digital networks to enable the economy to remain globally competitive
2. To attract investment for UK digital content, applications and services
3. To create UK content for UK users, in particular impartial news, comment and analysis
4. To ensure fairness and access for all
5. To develop the infrastructure, skills and take-up that enable the widespread online delivery of public services and business interface with government.
It's a tall order, but it can be reduced to simple terms. Achieving these goals requires balancing vested interests against innovation in a digital world. The vested interests, which range from the fixed and mobile network operators, broadcasters like the BBC, and the publishing industry, are powerful lobbyists. Their power derives from control over (deliberately) scarce resources. But by and large, they represent the past.
In the digital world the costs of duplication. replication, and distribution of content are a small and vanishing fraction of the cost of creation. That is why file-sharing, content and interest mashups, user-generated content, conversations, not diktats, are the way forward. This was manifest when California governor Arnold Schwarzenegger said this week he wanted to replace school textbooks with web-based learning materials.
Jonathan Zittrain argues in his book, The Future of the Internet, that the success of the digital world was made possible by the "incompleteness" of the personal computer and the internet. This allowed millions of people to experiment, to add new stuff to the mix.
Much of it was unpaid, and done either from pure altruism or in the hope of recognition. Indeed, Tim Berners-Lee gave away the intellectual property that led to the World Wide Web. Now he advises Gordon Brown on digital access.
But many vested interests want to lock down the net, to "tether" the devices that connect to the net, to track and trace every move we make in cyberspace.
There are good reasons, mainly of national and personal security, to do this. In addition, criminal exploitation of the net is almost epidemic; more than 90% of e-mails are spam; some of it carries a payload much worse that invitations to buy Viagra.
Those who argue thus say the state's first duty is to protect its citizens, says philosopher AC Grayling. He argues that the state has only one higher purpose: to safeguard our freedoms.
Those freedoms are best served by guaranteeing individuals' capacity to go about their lawful business in private, says Zittrain. Governments and other social institutions do need to curb criminal use of that privacy, but without losing the inherent capacity for innovation and economic growth that privacy protects, he says.
In the early days of criminal exploitation of the internet, John Perry Barlow, co-founder of the Electronic Freedom Foundation, said, "Noise is the price you pay for signal."
The debate and lobbying that surrounds the Digital Britain report has produced a deafening noise. The country needs Carter to give a clear and unambiguous signal about the way forward.
Email Alerts
Register now to receive ComputerWeekly.com IT-related news, guides and more, delivered to your inbox.
By submitting your personal information, you agree to receive emails regarding relevant products and special offers from TechTarget and its partners. You also agree that your personal information may be transferred and processed in the United States, and that you have read and agree to the
Terms of Use
and the
Privacy Policy
.