Daniele Lucchesi has a passion for two wheels. The market and product research manager at Honda R&D Europe admits he has a great job. "I just have to think about what the future of two wheels will be like."
Daniele Lucchesi works on Honda motorcycle designs three years from production, as well as longer-term product development. Business analytics is a key part of the creative process that ultimately leads to the development of new Honda motorbikes.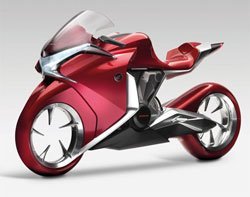 Honda R&D Europe is using SAS to help Lucchesi analyse customer preferences in the European market. He says: "I spend all of my time using the SAS software to understand the market."
The data from SAS helps Honda design motorcycles that meet the needs of the market while complying with safety, quality and reliability standards.
By analysing the results of market research, SAS is used to test hypotheses, allowing Lucchesi to gauge how people outside Honda feel about his designs.
Lucchesi, who has a background in mathematics and statistics, uses the data from SAS to prove customers like his ideas. "I want to capture the emotions they feel when riding a motorbike."
Data is obtained though market surveys. Honda R&D uses surveys targeting motorbike riders and non-riders. "I start by looking at what customers need," Lucchesi says. The results are fed into SAS. "I let the software make some recommendations, then conduct another survey to gauge feedback from potential customers," he explains. The resulting analysis feeds the creative process iteratively.
Lucchesi began using SAS a year and a half ago. He admits he is still only using about 5% of the product's functionality. "We're still in the beginning stages of implementation but initial results are encouraging."
"We have collected a large amount of research data over the years that isn't just quantitative - such as sales performance and revenues or technical-motor patterns - but also qualitative - such as judgments, values and preferences expressed by customers," said Lucchesi.
Using SAS, Honda will integrate all data in a single environment and analyse it to identify trends. SAS Customer Intelligence can predict the success or the failure of a model, based on the combination of qualitative and quantitative data.
"Data integration is in itself a considerable benefit because it provides fast access to information, regardless of format or system. We've saved time by producing automated reports to submit to headquarters but the most important value is the ability to interpret data, find correlations and make predictions of what our customers want. We can create new motorcycle designs based on inspirations from the data."
SAS social media analysis
In April, SAS unveiled a social media analysis tool. The on-demand applications collect and analyse relevant blog posts, Tweets, Facebook updates and more to help companies determine what people are saying about them on the web, understand the impact the online discussions are having on their corporate brands and design more effective marketing campaigns, according to SAS.
Email Alerts
Register now to receive ComputerWeekly.com IT-related news, guides and more, delivered to your inbox.
By submitting your personal information, you agree to receive emails regarding relevant products and special offers from TechTarget and its partners. You also agree that your personal information may be transferred and processed in the United States, and that you have read and agree to the
Terms of Use
and the
Privacy Policy
.